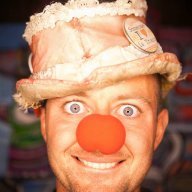 Joined

Dec 18, 2016
Messages

1
Back again in StP! Been a couple years. What'd I miss?

My name is Rabbit. I hitch out of my pack year round. I write words. I have the best words.

I ask a lot of questions like, "Are the years so cruel to all of us and those happy few with joy simply the best liars??" and also "Why can't I get my account profile details to save? Why does the 'Save Changes' button simply ignore me? Am I so inconsequential that even robots programmed for obeyance dismiss me?"

I'll be in the Slabs for the New Years Garbage Fire Bash 2016. How about you?