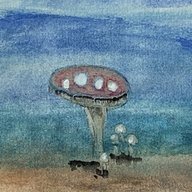 Joined

Feb 4, 2020
Messages

1
Location
It's been around eight years since I've been on stp. Since then, I have traveled in the US and in Europe some. I've hitchhiked the 101 in northern CA, slept in a tent city out in Austin, did a work for stay at a hostel in Asheville, NC, camped out in Friday Harbor one summer, and backpacked in five countries in Europe. That was all over five years ago.

Last year, I decided to ditch everything again and hike the Appalachian Trail from Hot Springs to Damascus. The whole idea was to see what Trail Days was like for myself. What happened was that I agreed to do a work for stay at a hostel run by a middle aged woman who turned out to be a nightmare. I'm in the middle of serializing the whole story on a blog. I'm just about finished with it.

As of now, I'm stuck on this tired mountain town in AZ at my mother's house working a fast food job. At least the job keeps me busy in the meantime. My plans are to find a way to get a van or bus and haul ass back to the east coast for a hot second. I realize now that I truly suck at being normal. If I can find a way to make a living out on the road with a set of wheels to boot, then I could savor the salty taste of freedom once and for all.