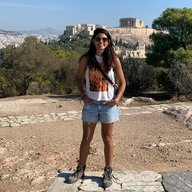 Joined

Apr 6, 2020
Messages

5
Reaction score

14
Homebase
Hi Everyone,
Nice to meet you all. I have been traveling by
backpack
ing when I could get time off work, and I've spent the last few years trying to wrangle out of work for long enough to truly immerse in wandering. I have a very time-consuming / "respectable" job and its killing me, I'm searching for my freedom. I'm looking to meet anyone else who is open to exploring better ways of living than being chained to a job, and desires to live outside of what is dictated by brutal economies.
An old friend of mine told me that we all have the power to make our own freedom. While I believe that, I haven't put it into practice very much. I want to make the leap into these open forms of travel, but I haven't quite had the guts yet
I'm new to this, so I haven't done much besides a couple of solo backpacking trips. My current friends prefer to stay in nice hotels and spend time shopping etc, and I am looking to meet new friends that align more with my values (rejecting consumption and money spending to enjoy life). I was happy to see this community. I currently live in Paris, and would be happy to talk with anyone in
Europe
or who is interested in visiting here!
I am also hoping to spend some time this year visiting organic farms, communes, or finding communities that are self-organized. Any tips on that would be welcome as well. Thanks!