Joined

Aug 22, 2011
Messages

515
Reaction score

1,712
Homebase
So I'm housed up at my cousin's for a sec to do some work before going back to the desert and I found some weird shit in the family army surplus stock and am re-doing my setup. I'm not sure if I'm on some straight wingnut shit with this idea, but it's so damn comfortable I'm likely to stick with it.
I got one of these:
http://www.ebay.com/itm/USGI-Ammuni...518785?hash=item419b11f201:g:DZcAAOSwEK9Tu1Od
and stuck a couple of these on the ass end of it:
http://www.ebay.com/itm/Genuine-Pol...142196?hash=item1eaed3e8f4:g:QzoAAOSwgNRV8Apv
This is what it looks like. I actually moved the pouches two notches back after this photo so that they sat further back on my ass instead of fanny-pack style on my hips, which made the whole thing feel even better.
The weight sits low, where the two satchels actually move with my thighs pretty easily, and I can clip other stuff like my hammock to the grenade straps on the front and the D-rings on the back of the vest. Between the two satchels, all of my shit fits with quite a bit of spare space.
Walking with it feels like I am not wearing a pack, but like I am not actually carrying anything.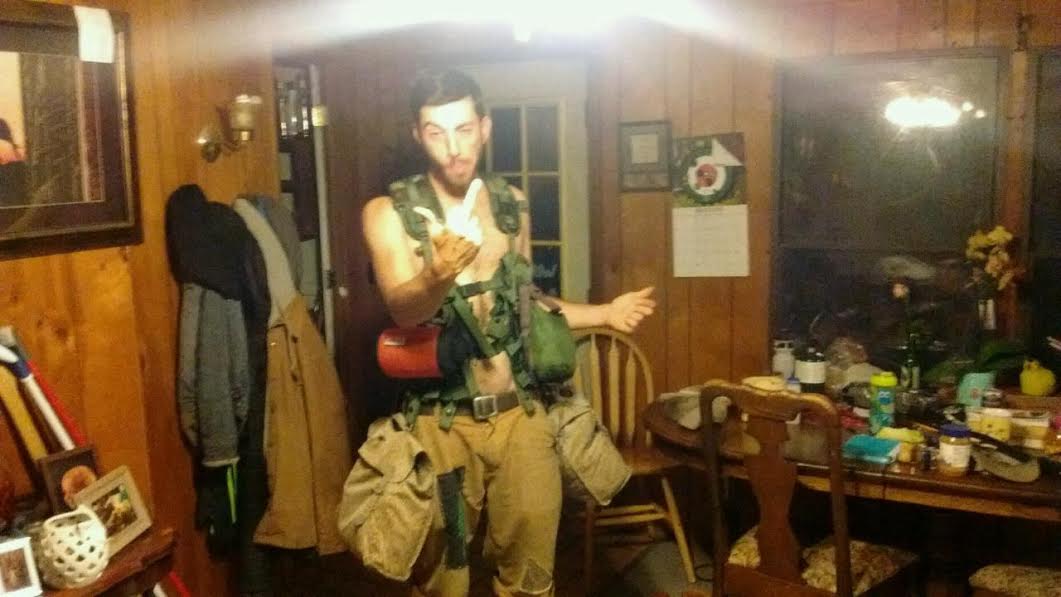 It feels very natural and my back is open for other shit to carry, which is important because I travel with a folding bike now. The two pouches go easily on either side of the rear wheel cargo rack of my bike when I am in riding mode or long-distance walking mode (I just push the loaded bike). Nine miles out of ten, I am either biking or pushing my loaded bike. But there are some scenarios when I can't do these:
hitchhiking
, for example, I need to have my stuff in two easy-to-get packages - my folded up bike, and my pack. Going through the subway in NYC, I have to carry the folded bike sometimes - there are two big D-rings on the back on which I could clip the folded bike (24 pounds) onto the empty space on my back. I could also carry my bike like this if it is disabled and can't roll. And last, when I lock up the bike and start walking around, I need an easy way to carry my shit that isn't annoying. The alternatives here are either carry a regular mil-spec pack on my cargo rack (annoying and top-heavy, with straps that hang into the chainwheel and fuck things up, as I recently learned), or to carry the pannier-pouches lashed together with a shoulder strap, which is awkward.
So I think I found a pretty good, if unorthodox fit. My only real concern is that I might look like a straight-up apocalypse militiaman who's on the lam. But I guess that practically fits the bill anyhow, so yeehaw. Anyone else ever do some shit like this?