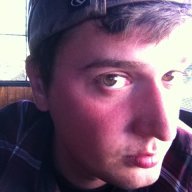 Joined

Apr 12, 2014
Messages

2
Location
Names Mike. Twenty five, and living in a place in Texas most Texans don't even consider to BE Texas. I found this site by luck.. good thing too. I joined up to learn everything I can possibly learn about this way of life. On the down spiral of a job, and just want to break free and see what America is all about (beyond its shitty traits). The sea to shining sea, forests, reserves, deserts, mountains - the works. I'm looking to travel up to the West Coast when I get my shit wired together soon.. possibly headed to 29 palms. Don't know what it is about the Mojave, or that place in general, it just seems..interesting to me. Maybe make a pit stop in one of my favorite places, diego. Trying to research it the best I can even though some say its just no-mans land. If any desert rats are out there that can give me a heads up on proper conditioning in desert areas and shit like that, that'd be cool. I've only been in the Hiking hobby circle for about two years, nothing with a long stretch as far as travel time. I don't want to travel by car, by bus, by plane. I rather do it all on foot.

I guess you can say I caught the wanderlust bug, and just trying to figure out what lies ahead. Not too much though, don't want to spoil the fun. I've just one question, with a lot of answers. I cant pinpoint a particular thread on this since I did search but... check it out. The people out there. Tell me about them.. the threats you face, I mean. There's a side to this that is extremely interesting... being active, that's what attracted me to it. Though... reality checks are frequent. It's not going to scare me off, I do plan on being prepared for sketchy shit, but like I said..here to learn. Trying to figure out the types of people you'll see along the way.


Other than that, nice meeting you all in advance.