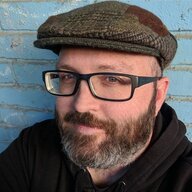 Permanent Wanderer
Staff member
Admin
Joined

Aug 4, 2006
Messages

10,047
Reaction score

23,704
Homebase
Website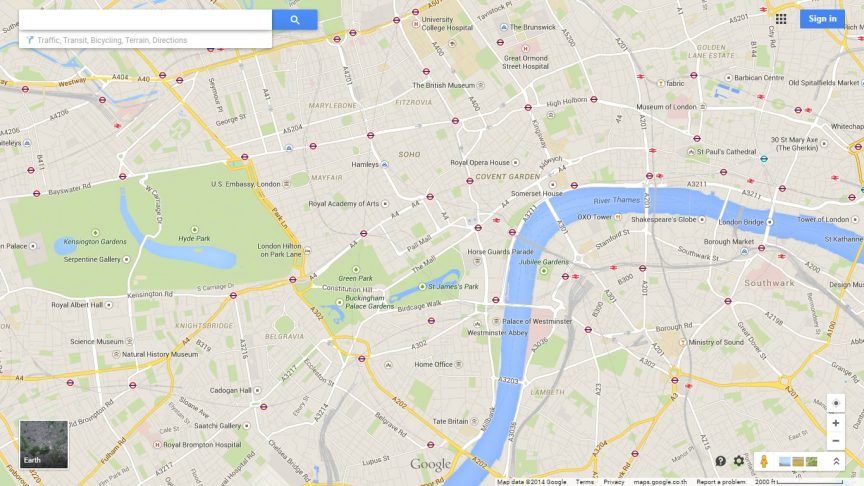 Find Your Way Without the Internet: 7 of the Best Offline Maps Apps
by Dave DeanMay 23, 20192 Comments
Whether you're getting off the grid, don't have
a local SIM card
yet, or just prefer not to be connected all the time, you'll undoubtedly find yourself traveling without the Internet at some point.
The good news is that being disconnected, by choice or otherwise, doesn't mean being lost. Many navigation apps work entirely offline, and the GPS in most smartphones and tablets also doesn't need an Internet connection to work. There's no need to break out the paper maps quite yet!
Can I Use GPS Without an Internet Connection?
Yes. On both iOS and Android phones, any mapping app has the ability to track your location without needing an internet connection. Without getting too complicated, the GPS system inside your smartphone works in two different ways.
When you have a data connection, your phone uses Assisted GPS, or
A-GPS
. This uses the locations of cell phone towers and known Wi-fi networks to figure out roughly where you are.
When you first load your navigation app, you've probably seen your location go from a big blue circle to a smaller, more precise circle.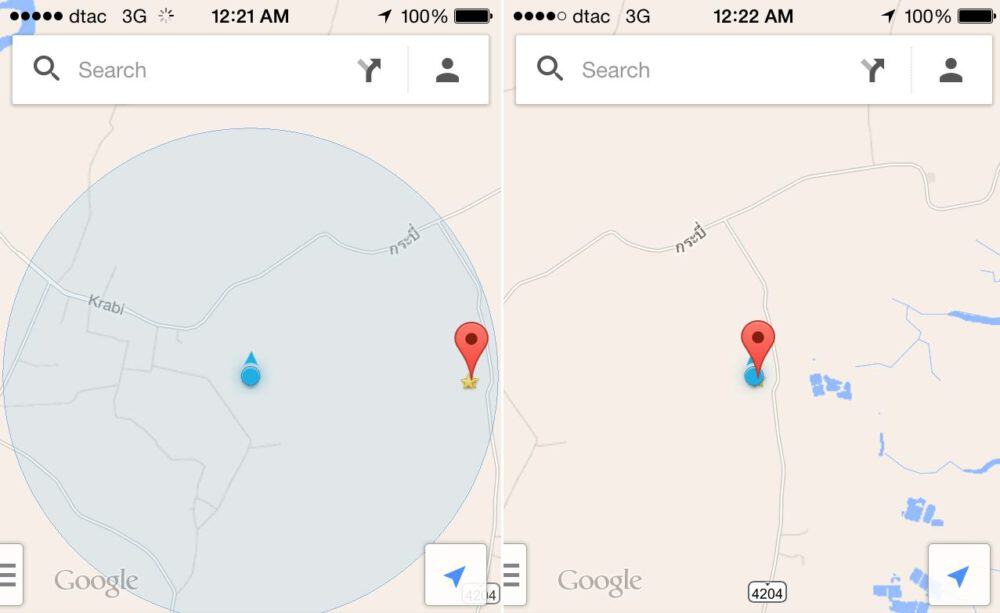 That big circle comes from the cell tower and crowd-sourced Wi-fi information, while the smaller, more precise circle comes once the information from GPS satellites gets added to the mix.
A-GPS doesn't work without data service, but the GPS radio can still get a fix directly from the satellites if it needs to.
Finding the initial location will take longer with this method, and the accuracy will be more dependant on things outside of your control like terrain and surrounding buildings, but it does work.
What About My iPad? Does That Have GPS?
In its infinite wisdom, Apple decided long ago to only put physical GPS chips into its higher-end iPads. Models with cellular data (3G or 4G/LTE) include a GPS chip, but the Wi-fi-only models don't.
Those cheaper models rely entirely on A-GPS (above), meaning they'll track your location fine if you have a Wi-fi connection, but not otherwise. As a result, they're not much good for navigating offline while traveling.
Does Using Airplane Mode Turn Off GPS?
Most people assume that putting their phone into airplane mode disables all radio services, but that's not entirely true. While Wi-fi, cell service, and Bluetooth all stop working in flight mode, there's at least one important exception: GPS.
Because the GPS radio can only receive, not transmit, it's not always necessary for it to be disabled during flight. As a result, GPS doesn't automatically turn off when you enable airplane mode on recent versions of either Android or iOS.
That's a benefit for travelers, especially those without affordable cell data overseas. Keeping your phone in flight mode lets you avoid roaming charges, while still being able to effectively use it for navigation.
If you're paranoid about being tracked by GPS when you don't want to be, however, you can still turn the GPS radio off manually.
To disable GPS tracking on iOS, go to
Settings > Privacy > Location Services
. On Android, you'll find equivalent settings for turning off location tracking under
Settings > Security & Lock Screen > Location.
Which Are the Best Offline Maps Apps?
There are many different offline navigation apps out there, but not all are created equal. We've covered seven of the best of them below, and since they all have somewhat different features and specialties, you may find yourself using more than one during your trip.
Note that no matter which app you go for, offline maps for the entire world won't be automatically available on your device. Make sure you download the necessary map data for the country or region you're going to ahead of time.
These maps are often quite large (hundreds of megabytes), so they're best downloaded over Wi-fi.
MAPS.ME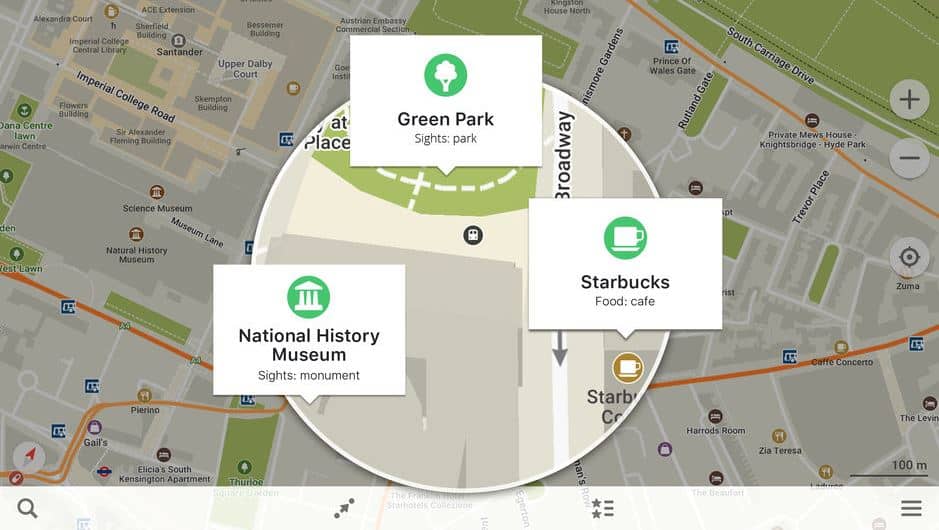 With well over a hundred million downloads,
MAPS.ME
has easily proved its offline navigation credentials. The app gives you walking, cycling, or driving directions at any time, with real-time public transport and traffic information available when you're online.
Maps are taken from OpenStreetMap's extensive database, and there's a wide range of points of interest, including restaurants, cafes, and much more.
The company has also put together custom itineraries for 600+ cities around the world, which are also available offline.
If you do happen to be connected, there's a useful location-sharing feature that lets you send a link to a travel companion (or anyone else) who wants to see where you are.
All features of MAPS.ME are free to use as long as you're happy to see a few ads. If not, you can pay for a weekly, monthly, or annual subscription to remove them.
Android and iOS, free (with ads)
CityMaps2Go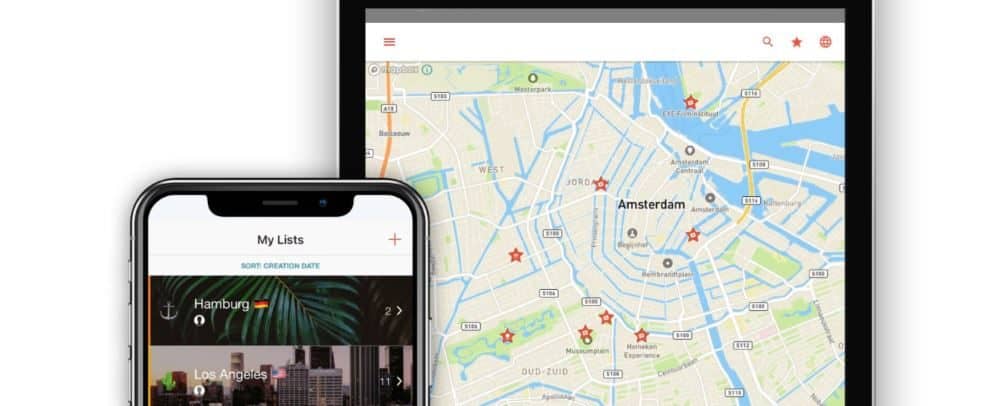 Covering 150+ countries, both online and offline,
CityMaps2Go
offers detailed city guides as well as the standard navigation features. You can choose to download both, or just the map data.
You can save any number of locations in advance, letting you create a custom itinerary of places to visit and things to do. Usefully, your saves sync across all of your devices.
All of the usual points of interest are included, along with short reviews written by other app users. Public transport information is also available for many cities.
The free version of the app is ad-supported and lets you download a single offline map at a time. Upgrading to the Pro version removes both the ads and the map limit.
iOS and Android, free or from $10.99 for Premium.
GuruMaps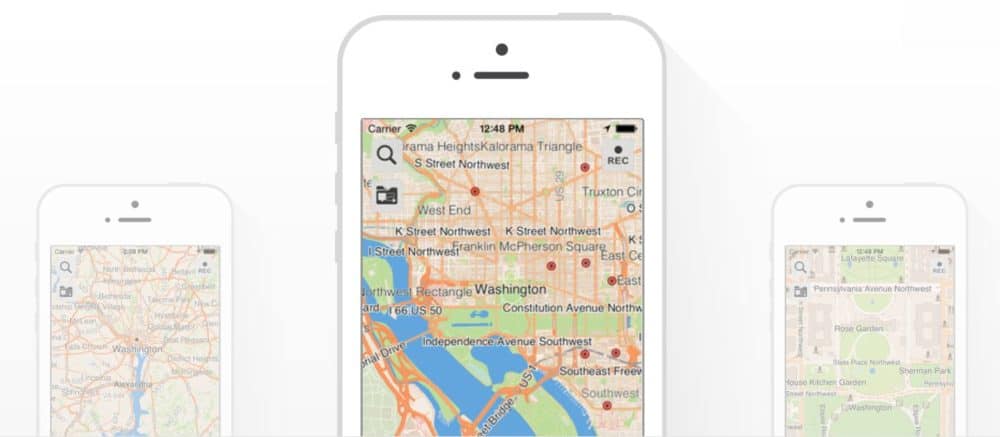 If you're interested in recording your journey while you explore, check out
GuruMaps
. Formerly called Galileo Offline Maps, the app lets you track where you go, monitor real-time stats like distance covered and average speed, and share the resulting file in the common GPX and KML formats.
You can download maps for an entire country with a single tap, which is much more convenient than selecting individual areas or regions. Bookmarking and offline searching are also included.
Most features of GuruMaps are free, while the others (including GPS tracking) only cost a couple of dollars. It's a straightforward, inexpensive, and useful offline navigation app.
iOS and Android, free or up to $3.99 for extra features
Here WeGo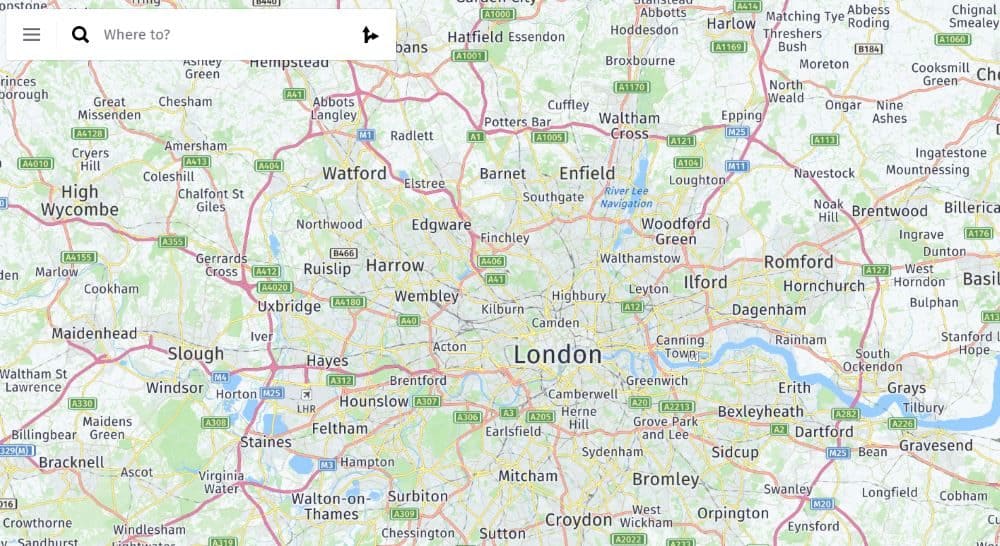 One of the pioneers of offline navigation, we've been using
Here WeGo
for several years (and
reviewed it
in the past). It remains an excellent choice, despite a new name and changes of ownership over the years.
Downloading maps for entire US states or 100+ countries can be done with a couple of taps, and includes walking, cycle, and vehicle-based navigation. Driving instructions are particularly strong, including turn-by-turn directions.
When you're online, you'll get public transit directions in 1300+ cities, and you can even book a taxi if needed.
Here WeGo is available for Windows and in a desktop browser as well as the mobile apps. Plotting out itineraries and bookmarking points of interest is easier on a big screen, and can be saved as "collections" that sync across devices.
iOS and Android, free (ad-supported)
Maplets
Maplets
takes a different approach to many other offline navigation apps. Largely focused on the areas other
tools
don't cover, its 12,000+ maps cover everything from national parks and mountain bike trails to college campuses, theme parks, and much more.
You can mark any spot on the map for later use, measure the distance between two points, and draw routes. You can export these notes for backup or to share with others, and GPS tracking is supported on some (not all) maps.
The app isn't free, but if you plan to spend time off the beaten path or anywhere that traditional maps don't cover well, it's well worth the money.
iOS, $2.99
You might travel with a smartphone, but that doesn't mean you'll always be connected. Here are 7 of the best offline maps apps to help you find your way.
toomanyadapters.com