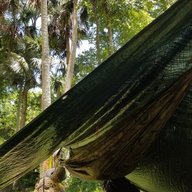 I ain't getting any younger.
Lifetime Supporter
Joined

Feb 13, 2011
Messages

465
Current Location
Datura trips can be way to intense from what I hear. Sounds like you all were really lucky, it sure could have been a lot worse. I've heard of livestock dying from grazing on that stuff. I've used Jimson Weed, Datura stramonium, medicinally for many years now. But damn dude, I never eat the seeds! I just harvest a handful of leaves towards the end of summer, after the plant has already gone to flower and seed. I just use a pinch of dried leaves at a time, smoked with either mullein when I'm sick or with cannabis for pain relief. It really does help relive my asthma in such micro doses. However I once ate a handful of fresh leaves and got pretty fucked up, nowhere near your experience. I just got busted up with a spill on my bike after eating those leaves and didn't feel shit until the next day. Another interesting note on datura, the alkaloids in datura are tropane alkaloids, like cocaine and nicotine, which means they are skin soluble. So it can help when a little bit is applied with crushed aloe to burns. However, even when used for medicinal purposes, you gotta go easy with the stuff and take great care.

That was one Hell of a story you got there! Thanks for sharing.