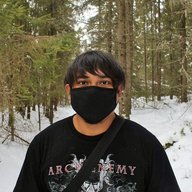 Joined

Feb 26, 2019
Messages

7
Location
Website
Greetings!!!
my name is Mark, from SE.
Asia
currently living in Helsinki, FI.
i like to travel, i do
Urbex
and i make noise & experimental music. as an artist, i have collaborated with more than 10 musicians & other artists from all over the world. I have upcoming co-releases with Dendera Bloodbath in the US & Days of Hate in Brazil.
my latest field recording EP can be streamed/downloaded here:

*** removed by admin ***
for inspiration:
more info about me:
https://www.markdrifter.net/bio
im wondering if there's anyone interested in contributing to my projects!! the criteria as follow:
- field recordings from would be artist for EP release via United By Chaos Records net label (minimum of 4 tracks / 5minutes or longer per track + 200 word essay about your work)
- field recording from a kindred spirit for me to make samples of for a composition (minimum of 10 minutes) the track will be registered under creative commons license.
- radio recordings/statics from radio or circuit bent devices (minimum of 10 minutes) im primarily interested in non English language enviroments.
i accept unedited audio recording only, files with computer manipulation will not be considered. field recording with live sound instrument improv is however okay. you can send/share a Google Drive folder with your files to:
[email protected]
Edit: lastly, ive notice some irrelevant response below. Im not here to for plebian feeback on my work. Just coz you're illiterate or a person of poor taste and can't comprehend the art form, don't waste my time with your stupid troll comment, it will not be read. People who are new to this, you can also check out the work of notable artists in noise or experimental music: Merzbow & Incapacitants in Japan, Pharmakon & John Cage in the US. There are also a lot of Academic books & articles published about noise music & field recording which you can source through online.
Kiitos/Salamat/Thank you for reading!!!
Last edited by a moderator: