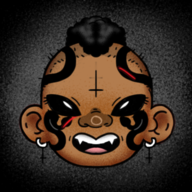 Joined

May 3, 2020
Messages

14
Reaction score

7
Homebase
Hey hey hey, It's really interesting that I've stumbled across such a cool community, and I'm looking forward to getting to know y'all.

Let's start with who I am. My name, if it wasn't clear enough, is Aaron Adonis. You may notice I like the letter A. I'll answer to just Aaron, Adonis, Donny, Don, or pretty much anything if you're respectful. I'm a late teens genderfucked kid looking to explore the world and escape a pretty hectic home life. Pronouns he/they/anything-but-she-honestly. I'm creative to my core, a writer, artist and sewer among other trades- I like working with my mind and my hands.

Currently vibing in a no name town in Southern Maryland, looking eastward for my travels.

So say hey! Maybe our paths will cross on our adventures.