spectacular
I closed my account
http://www.latimes.com/local/lanow/la-me-neo-nazi-stabbed-20160626-snap-htmlstory.html
At least five people stabbed at neo-Nazi event outside Capitol in Sacramento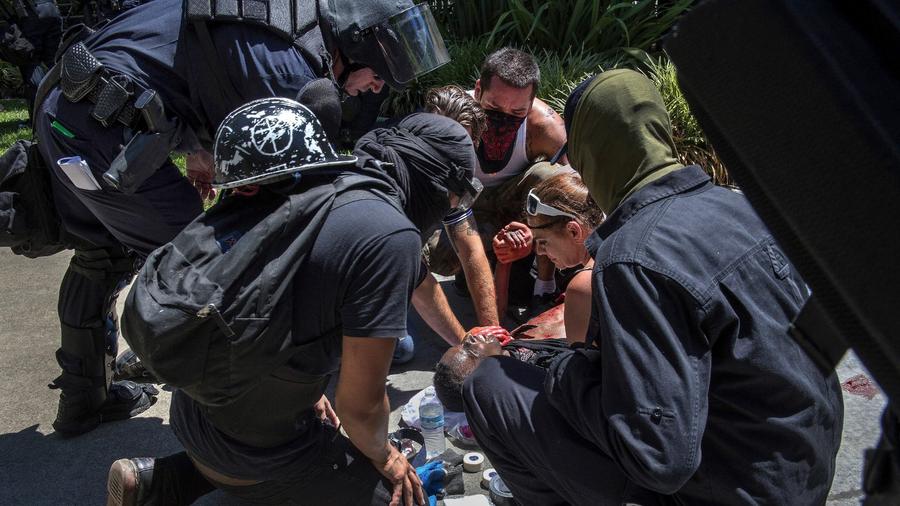 Police putting up crime tape around area where stabbings just happened. Crowds heading back to Capitol steps.
@ABC10
pic.twitter.com/f2PuvWvO7n
2:09 PM - 26 Jun 2016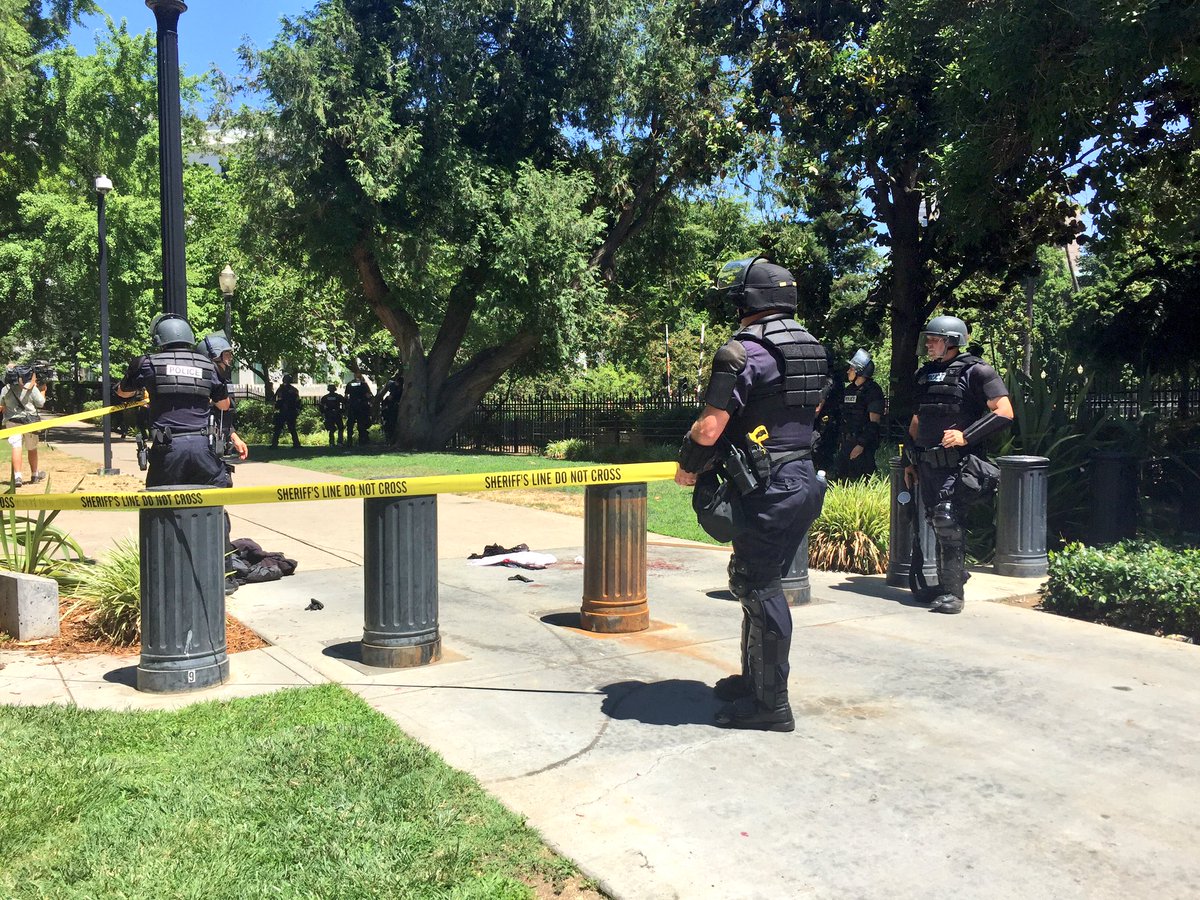 2h

Frances Wang

✔@ABC10Frances
Horrifying...Blood spatters all over the ground. Police trying to control crowds.
@ABC10
pic.twitter.com/aPtjTAO6pj

Follow

Frances Wang

✔@ABC10Frances
Many of the counter-protestors don't want their faces shown. Here's one of them getting medical attention.
@ABC10
pic.twitter.com/7MOJN3JiNe
2:07 PM - 26 Jun 2016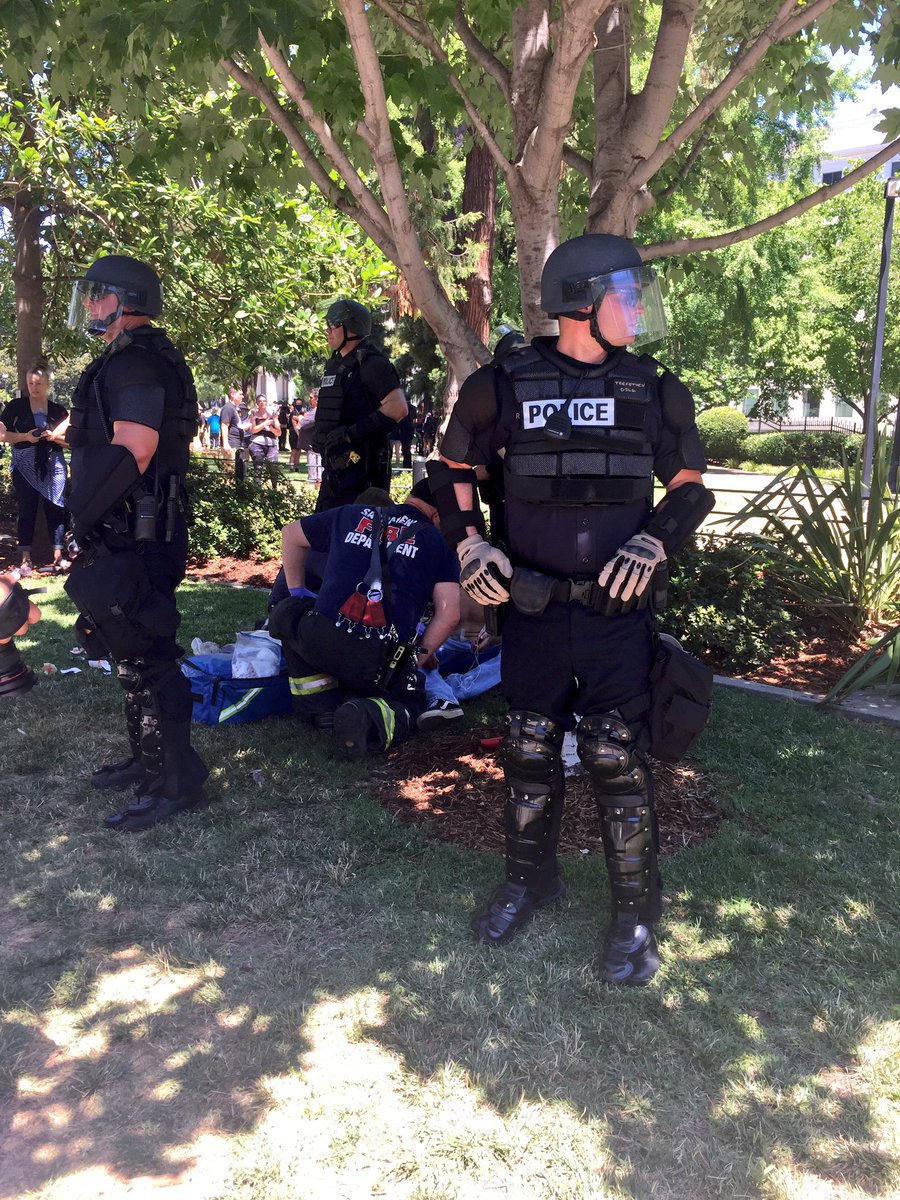 Matthew Heimbach, chairman of the Traditionalist Worker Party who did not attend the rally, said his group and the Golden State Skinheads had organized the Sunday rally.
Vice Chairman Matt Parrott, who was not present at the Sacramento rally, said it was a peaceful march and blamed "leftist radicals" for instigating the violence. Heimbach said that in the clash, one of their marchers had been stabbed in the artery and six of the "anti-fascists" had also been stabbed.
"We knew we were outnumbered. We stood our ground. We will be back. This is a victory for us because more of them walked away injured," Heimbach said.
The Southern Poverty Law Center, which tracks hate groups, categorizes the organization as a white nationalist group. Parrott said the Traditionalist Worker Party supports ethnic nationalism, but was not violent nor "a supremacist party."
On its website, the group describes itself this way: "The Traditionalist Worker Party is America's first political party created by and for working families. Our mission is defending faith, family, and folk against the politicians and oligarchs who are running America into the ground. We intend to achieve that goal by building a nationwide network of grassroots local leaders who will lead Americans toward a peaceful and prosperous future free from economic exploitation, federal tyranny, and anti-Christian degeneracy."
The rally at the capitol had been planned for some time.
The anti-fascist organization Antifa Sacramento, which had been promoting a "Shut Down Nazi Rally" event today on its website, did not immediately respond to requests for comment.
The violence came several months after
another violent confrontation
between members of a Klu Klux Klan group and counter protesters at an Anaheim park.
Ulloa and Myers reported from Sacramento; Reyes and Kim from Los Angeles.
Last edited by a moderator: