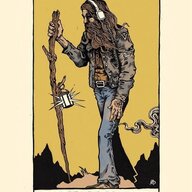 Joined

Apr 5, 2015
Messages

307
Location
Website
Mr. Wendlandt serves lunch and hands out socks to needy campers every Thursday. But he has stopped provisioning people with blankets and sleeping bags, worried that what seemed like compassion could be exacerbating a problem.

Darcee and Gerald Babbitt at their campsite outside Nederland. "Yes, we're homeless," Mr. Babbitt said. "No, we're not vagrants. No, we're not beggars."
A wildfire in July was a tipping point. Two men from Alabama pitched camp without permission on a privately owned hillside near Nederland, lit a campfire and read their Bibles,
they told
the Boulder County Sheriff's Office. The men told officials they put some rocks on the fire to put it out, and though they discussed whether they should do more to smother it, they decided not to.
One smoldering cigarette or lightning strike can ignite an entire hillside in the parched, fuel-filled forests across the West, and officials say the campfire galloped away and burned 600 acres of canyons and forests around Nederland. It destroyed eight homes, including that of a fire captain.
The two men who started the campfire, Jimmy Suggs and Zackary Kuykendall, were arrested and charged with fourth-degree arson. The day before their arrest on July 10, the two men and a female companion — who was not criminally charged — happened across a reporter for The Boulder Daily Camera who was interviewing evacuees from the still-burning fire.
"We were pretty close," Mr. Suggs
told the newspaper
. "It looked like the whole mountain range was on fire."
Citing the fire danger, some residents have asked the Forest Service to do what many cities have done in cracking down on the homeless: impose tighter rules on camping, or ban it in parts of the woods that have attracted the most people.
The Forest Service says it is working with thin law enforcement resources. One officer is assigned to Boulder County, which encompasses Nederland and the Roosevelt and Arapaho National Forests, which dominate the western part of the county. The service is spending more and more of its budget fighting wildfires, and has pared back on filling some law enforcement posts, said Chris Boehm, the agency's acting deputy director for law enforcement and investigations.
"There may be some regions where we have one officer assigned to an entire forest or area," he said. "That's not what we want, but fires are expensive."
The Nederland fire was one of a handful across the West in recent years that officials have blamed on transient campers. In Anchorage this May, officials said a two-acre brush fire appeared to start
in a homeless camp
. In Northern Arizona, where a homeless man was sentenced to a year in prison in 2010 for accidentally igniting a 280-acre wildfire, officials
stepped up patrols
this summer to look for illegal fires set by people living in the woods.

Hansen Wendlandt, the pastor at the Nederland Community Presbyterian Church, runs an outreach program for homeless people in the area.
For years, people searching for solitude or without better options have retreated to live in the woods, in buses, vans, tents or other improvised shelters, their numbers swelling every summer and dwindling when the snow comes. But officials say public lands researchers are just beginning to study who lives there, and why.
A 2015 survey of 290 law enforcement officers for the Forest Service found that officers in the Rocky Mountain West and Southwest encountered long-term campers most often. About half of the officers said the number of these long-term campers was on the rise, and only 2 percent said it had declined. (The rest said the number had either largely held steady or fluctuated.)
Lee Cerveny, one of the researchers who conducted the survey, said it was unclear how many people might be living on public lands at any given time.
"What is happening, and why are we seeing more people living in the forests?" she said. "We don't know yet."
National parks place strict limits on camping, but in national forests and open spaces managed by the Bureau of Land Management, people can pitch tents just about anywhere camping is not prohibited. Many forests allow camping for only two weeks at a time. In 2015, the Forest Service handled 1,014 episodes related to violations of those rules.
Around Nederland, crime reports, medical emergencies, unattended fires and other calls for help and extra patrols have soared at three Forest Service areas popular with homeless campers. The Boulder County Sheriff's Office was called there 388 times last year, up from 213 in 2013, and officials attribute some of the rise to
Colorado
's reputation as a mecca for legal marijuana, and Nederland's embrace of retail marijuana dispensaries.
Rick Dirr, the Nederland fire chief, said his largely volunteer firefighters no longer answer nighttime calls in the woods without a marshal or sheriff's officer as backup. He said he has faced down one camper who carried a butcher knife, and searched the woods for another man who had attacked his girlfriend. There was the boy who swallowed a heroin baggie, he recalled, and a man who was hit in the head with a shovel.
Others just do not understand how the forest works, he said. He responded to a report of an illegal fire to find a teenage boy and his 8-year-old sister alone at their campsite, bags of garbage everywhere. They and their parents had been living out of their car, and the father asked Chief Dirr when someone would come by for garbage pickup.
"We still don't have a solution," he said. "These are the things going on unseen in the woods."
Continue reading the main story