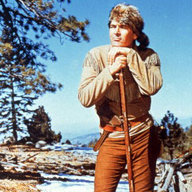 I'm a d-bag and got banned.
Banned
Joined

Oct 20, 2018
Messages

109
Location
Website
Before you read this adventure you need to understand something of the American Culture during the late 1960's thru the mid 1980's. Back in those days it was desireable for girls to lie UP about their age. The reason for this was guys who were older usually had a little money and often a car. The teenage girls wanted "status" over their friends so dating a guy in college when you were in High School gave a girl bragging rights. On the flip side of this, guys usually weren't interested in girls younger than 18 because they couldn't drink or go to bars and nightclubs. Now you are in the right mind-set for this adventure:
When I was 17 I was heavily into calling Jam Line and talking to girls. It was my life back then and I was basically addicted to calling the thing. I didn't have a car, so I would ride the bus out to meet the girls I talked to. At 18, I got my first car and then my Jam Line adventures really began.
Another memorable adventure was really my first bad experience and it taught me a lesson about life. I had been talking to this 16 year old girl, Berta, for almost a year. I really liked her and we had been talking about meeting for sometime. One day my friend Bob, came over and was looking for something to do. I told him I was planning on meeting Berta, from Jam Line in a couple of hours, so he invited himself along. Berta had told me she wanted her friend Karen to be with her, but Karen had gotten grounded for smoking, or something like that. When Bob and I arrived out at Berta's Golden Valley, MN, apartment building we were pleasantly greeted by a cute blond girl who looked sorta like actress Sally Field. She said that Karen was going to come out to meet us too. I asked how she was going to do that if she was grounded, and Berta said, "You don't know Karen."
It wasn't long before this REALLY UGLY girl came out of the building next door with a back-pack and a bag of trash. It was Karen, and she looked like Frankenstein's Bride, literally, if you have ever seen the movie, you know what I am talking about. Her hair was frizzed out like she had plugged into a light socket! We started calling her "Frisbee." Bob was appalled at the sight of her.
Well they both wanted to go for a ride in my car and I asked "Frisbee" where she was going with that back pack? She said she was running away from home and I was supposed to take her! I said, "No way, I don't need to go to jail." After several minutes of arguing, I managed to convince her that I was not going to help her run away. They both still wanted a ride so I made Frisbee throw her back-pack down before getting into my car. We all went for a short drive and back again.
One of the things you did when you met someone off Jam Line was to go see their High School, since we were all in High School, it seemed like a cool thing to do. I really wanted to see Berta's High School too, because she had told me a story about someone in her school who put Super Glue on the toilet seat and some kid sat in it! They had to call the fire department to cut the seat off the toilet, and the kid had to walk down the school hallways to the ambulance with a toilet seat glued to his bare ass, and his pants down, hehehehe! We got to the school and it seemed kinda small for a high school. It was summer time, so we didn't go in. I decided to drive the girls back home.
When I got them back home, I was greeted by their moms who were extremely pissed! As I was dropping Berta and Frisbee off, Frisbee's mom said, "I've got your license plate number, if you ever come back here again, I will have you arrested!" Bob started laughing because he knew he was still a minor at 17, I was 18, and could get into big trouble! I took off and headed home.
Bob and I stopped at a store on the way home and he bought a Hostess Apple Pie, which he peeled off the wrapper of, and promptly threw onto a parked Jaguar's windshield out of frustration as we drove by. When I got home, I rushed into the house and called Berta to find out what was going on. Her mother answered the phone and said, "You're going to prison for what you did!" I said, "What did I do?" in a frantic voice! As it turns out, in an attempt to lessen her parents anger for sneaking out of the house and trying to run away, Frisbee told her mom that Bob and I had taken them behind the school and raped them! When I heard this I crapped my pants! I pleaded that no such thing had happened! Berta's mom was talking to Frisbee's mom in the back ground; Frisbee's mom wanted to know my side of the story. I explained exactly what had taken place and said that nothing happened, and that I had refused to take Frisbee anywhere with the back-pack. Frisbee's mom then wanted to know how Frisbee had gotten out of the house. I said she had found a way, but I didn't know how. Her mom laughed a little and said that sounded like her daughter. Then they said I could still get into a lot of trouble. I asked for what, and they informed me that Berta was only 12 years old, and Frisbee was only 13! WOW! Bob and I both thought Berta was 16 and Frisbee was 17! I explained this to the moms and also how I had come to know the girls through Jam Line. After about a 20 minute conversation, Frisbee's mom said she would not pursue charges if I promised to NEVER come around the girls again. I gladly agreed.
I learned an important lesson about life that day, and about Jam Liners--Don't trust them! I never saw or heard from Berta again, but kept running into Frisbee for years after that cruising down in Hopkins. I tried and tried to stay away from her, but she kept showing up at all the same parties as me and following me around. She even developed a crush on me--UGH!!!! It wasn't until about 1982 that I finally didn't run into her anymore.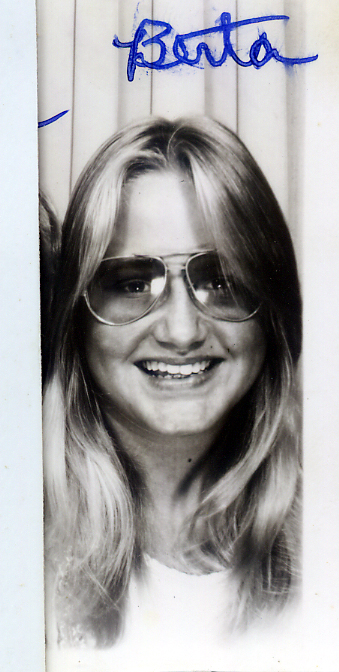 The Picture Berta sent me thru the mail before we met in person.
Does she look 12-years-old to you? If she's still alive she'd be 52-years-old now.