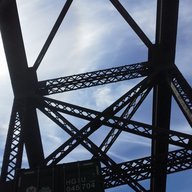 Joined

Apr 5, 2012
Messages

243
Website
Six Ways America's Collapse is Eerily Like the Soviet Union's Last Days
eand.co
If I was to tell you there was a society in which longevity, real incomes, savings — not to mention, happiness, meaning, trust, and democracy itself — were all shrinking at record pace, what would you say? I'd say it was collapsing — whether or not its people knew it, or wanted to know it. Yesterday, that society was the Soviet Union. Today, it's America. And it strikes me that these two collapses are eerily similar in many ways. Now, I'm not crying: "America is the Soviet Union, dude!!!111" — but I'll come to that. First, the parallels.
The first is what I'll call forced apathy. You can't exactly spend much time changing the system when you're stuck on the breadline — hence, Soviet collapse was a self-perpetuating force. But you can't spend much time changing the system when you're working 80 hours a week…for declining income, either. 80% of Americans live paycheck to paycheck — translation: nobody much has the time or energy to change much of anything: they're too busy just struggling desperately to make ends meet. Hence, nothing much changes.
Friends across the world often ask me: "why don't Americans do more to fix their crumbling society?" They're aghast, astonished. I tell them the reality of American life: Americans would, if they could, but they can't, mostly. Apathy is forced on them by a predatory kind of capitalism that forces them to live something like poor people in a rich country. Breadlines — insulin lines — what's the difference, really? Americans are forced into being apathetic, weary, drained of energy and ideas and time, by a fatally broken political economy which makes them more and more of them live at the edge of ruin, more and more so every day — but that forced apathy, my friends, is the kind of trap that has led societies throughout history to collapse, whether the USSR or Rome.
What happens if you do try to change the system, though? Well — how exactly are you going to do it? The second way American collapse resembles Soviet collapse is through one party rule. I mean this in a subtle way. It's true that one party controls most of America's government — and its society, too — and that party has imploded into the kind of extremism that makes dictators proud. Still, think about the opposition for a moment. What do you notice? They don't oppose...