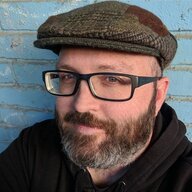 Permanent Wanderer
Staff member
Admin
Joined

Aug 4, 2006
Messages

9,990
Reaction score

23,483
Homebase
Website
I just posted my first YouTube video in nearly two years! I take you on a tour of my setup for living in my toyota prius hybrid electric car. Let me know what you think!
Man, after not making videos for a few years this took a lot longer to put together than I expected. Made a LOT of mistakes, but oh well, live and learn! Getting back into the swing of things
Blurring out my license plate took an aggravatingly long time.
YouTube description:
In this video I give a tour of the setup I've created for living full time in a 2008 Toyota Prius. I cover my storage arrangements, where I sleep, and everything I use to stay comfortable while living in this car.
Timeline:
0:01 - Intro
0:30 - Walk around vehicle
3:02 - Rear cargo box
5:45 - 'Car Mode'
6:17 - Sleeping setup
8:58 - Clothes drawer
10:05 - Trunk storage
11:06 - Solar charge controller
12:10 - Solar panel
14:05 - 12 volt refrigerator
16:51 - Hang out area
19:12 - Heat shields / blackout shades
22:23 - Window shades up walk around
23:45 - Window socks
25:10 - USB rechargeable fan
26:24 - Prius AC
28:00 - End
Other videos mentioned:
---
Main video that inspired me to live in a prius:
DIY hitch cargo box:
---------------
Product links:
---
Plastic storage box:
Tractor Supply Co. Heavy-Duty Poly Utility Storage Box, 44 in. at Tractor Supply Co. - https://www.tractorsupply.com/tsc/product/tractor-supply-co-heavy-duty-poly-utility-storage-box-44-in?rfk=1
Hitch receiver kit:
2008 Toyota Prius Trailer Hitch - Draw-Tite - https://www.etrailer.com/Trailer-Hitch/Toyota/Prius/2008/24808.html?vehicleID=2008201515
Hitch cargo carrier:
Amazon.com: CURT 18110 300 lbs. Capacity Tray-Style Trailer Hitch Cargo Carrier: Automotive - https://www.amazon.com/gp/product/B00JF53ZEE/ref=ppx_yo_dt_b_asin_title_o08_s00?ie=UTF8&psc=1
Carbon monoxide detector:
Kidde Battery Operated Carbon Monoxide Alarm with Digital Display KN-Copp-B-LPM - Carbon Monoxide Detectors - Amazon.com - https://www.amazon.com/gp/product/B004Y6V5CI/ref=ppx_yo_dt_b_asin_title_o09_s00?ie=UTF8&psc=1
4 inch tri-fold mattress:
Amazon.com: Milliard Tri Folding Mattress with Washable Cover Space Saver Single Size (75 inches x 25 inches x 4 inches): Kitchen & Dining - https://www.amazon.com/gp/product/B00W67PJ4M/ref=ppx_yo_dt_b_asin_title_o01_s00?ie=UTF8&psc=1
Burgundy bed sheet:
Amazon.com: Cotton/Poly Fitted Cot Sheet: Home & Kitchen - https://www.amazon.com/gp/product/B00B28ULOO/ref=ppx_yo_dt_b_asin_title_o06_s00?ie=UTF8&psc=1
Matching Pillow cases:
Amazon.com: Cot Sheets 30 x 75 (Fitted, Flat, Sets) 2 Pillowcases Burgundy: Home & Kitchen - https://www.amazon.com/gp/product/B01F2O4WNY/ref=ppx_yo_dt_b_asin_title_o05_s00?ie=UTF8&psc=1
Magnetic phone holder:
Amazon.com: Magnetic Universal CD Slot Car Phone Mount,APPS2CAR CD Player Car Phone Mount Universally Compatible w/Android + iPhoneXS/XS Max/X/8/8Plus+ All In-Car CD Players with Magnetic Phone Car Holder Magnets: Cell Phones & Accessories - https://www.amazon.com/gp/product/B06Y42RKPF/ref=ppx_yo_dt_b_asin_title_o02_s00?ie=UTF8&psc=1
Quick charge cigarette adapter:
https://www.amazon.com/gp/product/B01LCFEQM4/?tag=squattheplan-20
Car back seat organizer:
https://www.amazon.com/gp/product/B01MZXL0P6/?tag=squattheplan-20
Tablet headrest mount:
https://www.amazon.com/gp/product/B07CTJL8PW/?tag=squattheplan-20
Window socks:
https://www.amazon.com/gp/product/B00YI3IGA6/?tag=squattheplan-20
Pure sine wave inverter:
https://www.amazon.com/gp/product/B0131GJ5X2/?tag=squattheplan-20
Power strip with usb-c:
https://www.amazon.com/gp/product/B07DFFX34P/?tag=squattheplan-20
Laptop lap desk:
https://www.amazon.com/gp/product/B002WER27Q/?tag=squattheplan-20
NOCO 12v adapter plug socket:
https://www.amazon.com/gp/product/B00G8WLW2Y/?tag=squattheplan-20
AllPowers solar charge controller:
https://www.amazon.com/gp/product/B01MU0WMGT/?tag=squattheplan-20
AllPowers 100w flexible solar panel:
https://www.amazon.com/dp/B013E07FNM/?tag=squattheplan-20
Alpicool refrigerator:
https://www.amazon.com/dp/B075R1LH8D/?tag=squattheplan-20
Sun shades (front):
https://shop.priuschat.com/sunshade-heatshield-2004-2009-toyota-prius-front/
Sun shades (back):
https://shop.priuschat.com/sunshade-heatshield-2004-2009-toyota-prius-rear-1013R-A/
Sun shades (rear side windows):
https://shop.priuschat.com/sunshade-heatshield-2004-2009-toyota-prius-rear-side-windows/
Sun shades (front side windows):
https://shop.priuschat.com/sunshade-heatshield-2004-2009-toyota-prius-front-side-windows/
---------------