I'm a d-bag and got banned.
Banned
Joined

Oct 20, 2018
Messages

109
Reaction score

58
Location
Website
The Night I Brought Home A Homeless Stranger
(A Squat The Planet Exclusive Adventure!)​
I had just started my Sunday night shift as a city bus driver in St. Paul, MN. It was a cold January night in the New Year 2020 with some snow flurries falling. The night was a little busier than usual since the next day was Martin Luther King Day, a federal holiday. When I arrived at the end of the line, a lady who had gotten on with the first group of passengers was still on the bus. I asked her if she was going back the other direction and she nodded yes. When she was still on the bus at my second terminal, I knew I had a "Street Person" riding around trying to stay warm.
It has been my policy for the majority of my 32-year career to allow these people to ride around as long as they don't cause any trouble or become disruptive. In the last few years my employer, Metro Transit, has also adopted this policy at the Operator's discretion. Usually these riders sleep for a few hours then exit the bus quietly. This particular lady however, stayed on for my entire shift.
At the end of my shift, I woke her up and informed her that it was my last trip and she'd have to decide where she wanted to depart because she would have over a mile walk back downtown if she rode to the bus garage. She acknowledged, "Okay."
When I arrived at the garage she was still on the bus. I told her she'd have to exit or I'd have to call the cops. She then asked me if I'd take her to a homeless shelter. I explained to her that the only shelter I knew of, Dorothy Day Center, had been torn down a couple years prior. She appeared desperate and with the outside temperature hovering around zero degrees Fahrenheit I told her I'd take her back downtown in my car.
After driving around the former location of the old Dorothy Day Center and not finding anything open at 12:30am, this person started asking if she could just spend the night at my home. I told her that I lived 40-miles away from St. Paul in the middle of nowhere. She would essentially be a prisoner on my wooded 5-acre hobby farm ½ mile down a dirt road in the country.
After a short pause she explained that she had only been in St. Paul for two days and didn't know anyone. She had spent the previous night sleeping on the Light-Rail Transit Train, and earlier in the day she had been robbed at gunpoint! She then introduced herself as "Natasha" and said I seemed like a "nice person" and she'd take her chances spending the night at my home. I told her I'd have to call my wife and let her know what was going on. I was hoping my wife would give me an excuse to get myself out of the situation.
My phone call woke my wife up and she got online and started looking for 24-hour crisis shelters—none of which were nearby. Being as it was so cold, the hour of the day, and the fact it was starting to snow harder, I had little incentive to be hopeful one would be open and have space. My wife then surprised me saying it was probably the right thing to do to provide assistance in this case.
As I headed out of the city towards home Natasha told me she had "stomach problems" and needed to drink a lot of fluids to avoid getting very ill. I asked if I should take her to the hospital and she refused saying she just needed something to drink. I stopped at a gas station where she purchased several quart bottles of Gatorade. While she was inside the thought crossed my mind that this was my last chance to bail on the situation—throw her stuff out into the parking lot and drive off--as many guys had done back in the day if they met a girl they didn't like off the Jam Line. (Jam Line was a telephone social dating/networking tool we all used back in the 1960's and 1970's.) Anyways, I'm not that mean so I waited for her. When she came back out she claimed to have thrown up a couple of times in the bathroom and apologized for the delay it had caused.
She wasn't much for conversation, but when we passed a sign that said Duluth 123 Miles, she asked if there was any way I could take her to Superior, WI? She said that's where she was from and that she had come down to the Twin Cities because she hoped things would be "better" for her. She had family that didn't get along with her, and she hated her "Worker." However getting robbed had traumatized her and she wanted to go back home now.
I wondered aloud why she didn't go further south to a warmer climate, and she said she couldn't afford to travel that far. I then suggested she hop a freight train and she responded that she was "too old" to do that. I also asked if she had considered hitch-hiking and she didn't respond to the question. She dodged the topic by repeating her request to be taken up to Superior, WI, and she'd get some money together to cover gas.
I asked her if she could drive, and she said she had a driver's license, but no vehicle. She said she was unable to find work because she was disabled. She also informed me she had her Panhandler's License, which made me suspect she had been over to Minneapolis, since that's the only city I know of around that required one.
For the most part she stayed bundled up in her jacket which was quite filthy and looked like she had been on the streets for several days or more. Her skin didn't look very good, and she was shivering all the way back to my house even though I blasted my car heater on full until it was about 90° in my car.
As we were nearing my home Natasha commented on how beautiful the scenery was. I told her she should see it during the summer time! When we arrived at my house she asked if I had a spare bed, and I took her downstairs to our guest bedroom. Before going to bed she proceeded to throw up again in the bathroom, then without even taking her jacket off, she dove onto the bed and covered up. I asked her if I could get anything for her and she asked for more blankets. I then shut off the light, closed the door, and went upstairs.
My wife's Fibromyalgia must have been acting up because she had fallen asleep on the couch—our bed has become too hard for her. My kids were asleep in their bedroom, so I headed to bed myself. After getting ready for bed and lying down, I found I was all wound up and thoughts started flooding my mind.
I had this stranger in my house that I had NEVER seen before and the ONLY thing I knew about her was she said her name was Natasha. She rarely had made eye contact when talking to me and she hid herself inside her clothes. She had a small pack with her, but I never asked what she was carrying. I started worrying about the $250 cameras I had on the ledge in the room she was sleeping in, how all our Income Tax returns were in the room's file cabinet, and the fact that a computer was in that room with full Internet access. I tried to take an inventory of all possible valuables in my mind that were stored on my lower level.
At this point I became angry with myself for being so materialistic. I told myself that if I had no possessions of value, I would be much more accommodating to helping the less fortunate. I came to the realization that it is why the rich are so cold to the world's problems. They are attached to their belongings instead of what counts—people in need.
I finally fell into a restless sleep only to be awakened about an hour later by the sound of the downstairs bathroom fan going. Usually guests don't bother using the fan, so this told me she must be smoking in the downstairs bathroom. My new paranoia was she might fall asleep in bed with a smoldering cigarette and burn my house down.
After falling back to sleep for a couple more hours I was awakened by a bad dream of my wife's vehicle being stolen. I dreamed I was helplessly watching as Natasha drove off down my driveway on her way to Duluth, after finding the keys on the table or something. I got spooked later the next day when my wife told me she had the exact same dream of her vehicle being taken by our unexpected house guest.
My two kids (ages 11 & 13) had no idea someone else was in the house. They were both awake and playing videogames in the living room when I got up the next morning. When I introduced them to Natasha, they just glared at me like I was crazy and refused to talk to her. They told me later they had been awakened that night by strange noises in the house and one of them swears he saw a Xenomorph wandering around the house during the night. (For those of you who don't know, a Xenomorph is the monster from the 1979 Sci-fi Horror movie: Alien.)
Did Natasha wander around my house while we all slept? I have no idea. My wife had awakened for a bit and tried to find someone to give Natasha a ride to Duluth, but her friends all said, "I wouldn't feel comfortable doing it."
When I woke Natasha up the next morning to get ready to go, she was still in her winter jacket and the room was littered like a homeless camp with Kleenex and empty soda bottles all over the place. The bed had what appeared to be dirt and rust chips all over the sheets, and my basement smelled like cigarette smoke. Before coming up stairs Natasha threw up again. I asked her if she felt any better and she said, "A little bit" then thanked me for allowing her to spend the night.
Before leaving my wife offered to fix her breakfast, she refused any food, but asked for soda and money. I offered her $2 for bus fare and she seemed appreciative for it, then took several cans of diet coke. I also had printed out several brochures of crisis shelters with maps addresses and phone numbers off the Internet of the Twin Cities area.
On the way back into the Cities, I asked Natasha what her long term goals were. She said, "getting her kids away from her husband." I asked her kid's ages and she said, 6 & 4, and then she went silent, closed her eyes and pretended to sleep the rest of the way into town. She totally ignored me for the whole 40-minute trip. Her last words to me as I dropped her off at the bus stop were, "How long before the bus comes?"
I saw Natasha one more time that day waiting for our Light-Rail Train towards Minneapolis. She didn't seem to be trying to locate any of the crisis centers I had provided information to. This was confirmed when I got back home from work. All the literature I had printed out was left on our kitchen table. I was a little bit annoyed by this.
So you're probably wondering would I do this again? My answer: It depends on the circumstances….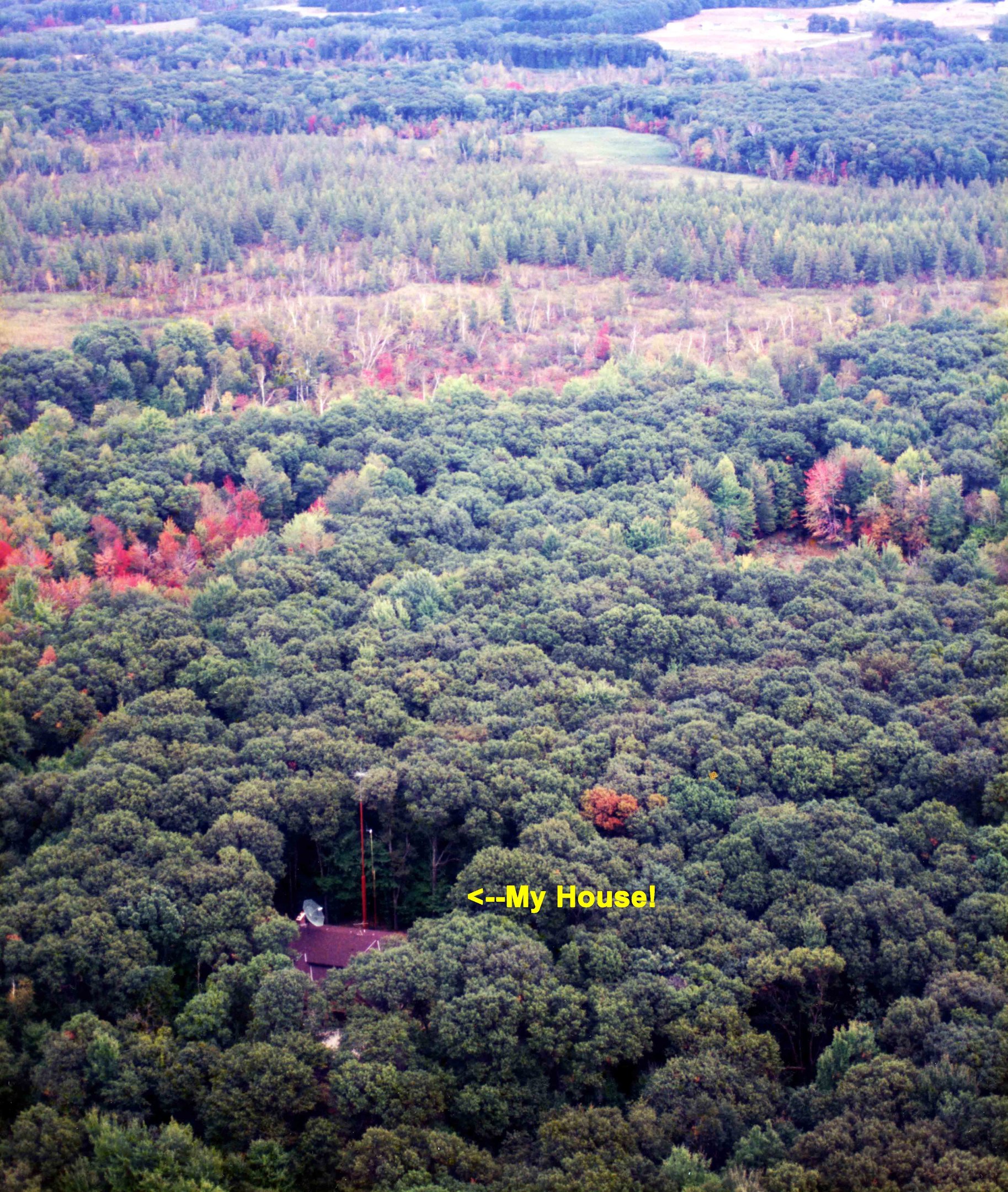 An Aerial Drone Shot of My Home, See How Secluded it is!​