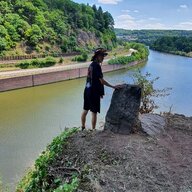 Joined

Oct 11, 2021
Messages

20
Reaction score

43
Homebase
This is actually a personal story but I think Stp is the best place to tell it because, as far as I experienced, most people are nice here
It might be a bit long, so here's the short version first:
- met a girl while traveling
- got along quite well
- decided to meet again
- spend an amazing day together
(it seemed to get serious)
- didn't manage to see eachother again
- she replied less to my messages until she ignored them completely and blocked me too
For those who are still here and excited,
here we go with the long version!
Some while ago I was traveling through
Europe
, actually my first real travel experience. I managed to hitchhike to the slovenian capital Ljubljana and checked out the entire town. Because at some point the weather turned to total shit and I was getting really pissed I decided to leave the city and take a train to Vienna 'cause I now some who live there.
Anyway, after being totally soaked wet I decided to settle down at a tree with alot of weird stones around it directly at a busy intersection, turned out to be some sort of monument. All in all it was a pretty odd place to spend about 4h to wait for a train.
Hours later I was, of course, still there and while I was packing my stuff and getting ready to leave a girl suddenly approached me. Most of the people passing by looked at me weird but she just came onto me and was really curious. A beautiful french girl who was also traveling with a huge
backpack
on (the backpack was nearly as tall as her, looked quite funny lol)
We got along quite well and I even managed to show her a part of the city which she hasn't seen before I went to Vienna. Both of us knew, we had to see eachother again. Exchanged numbers and off I went!
About one week later I returned to Slovenia and she was actually near the place where I started the whole trip, so I knew the area quite well. After sleeping inside a shed and getting cleaned up by fresh mountain water I headed towards the town we decided to meet.
She was in company with another slovenian girl where she stayed and we went on hike to some ruins, why not tho? She was really happy to see me again, got along even better, smiled at eachother the whole time, talked a lot, laughed a lot... You probably can imagine it.
After swimming in the river, eating out and playing cards we ended up looking at the stars together while our heads were liked bumped into eachother.
I actually never managed to get so close so it was a big deal for me.
(Sounds like a boring love story in movie xD)
Unfortunately the day had to end and after being dropped of next to a country road I managed to set up my Hammock in a really uncomfortable position but I didn't care because I was just in love.
This is the part where things went downwards
The next day I woke up and hitchhiked back to a more familiar place where was also a punk rock festival going on and it was possible to listen to the music for free.
She told me she was busy (Which was actually true and not some sort of stupid excuse) and so I just enjoyed the free music.
I totally wanted to see her again but after texting alot and waiting days at the same fucking place I came up with the idea to continue my journey and see her again in the future. The weather was also going to be really shitty so sleeping outside would've been a pain in the ass.
I was getting ready for the next day where I intended to leave and headed towards the supermarket to get some groceries and out of the sudden she told me I can come around to the place she stayed. It was just a few km away and easy to hitchhike to but it got already quite late and I couldn't guarantee to get back to the place I stayed that day.
It was a really painful decision to leave Slovenia and not going to see her again for some time.
After getting quite emotional that evening I got ready for the next day on which I planned to hitchhike to Bratislava, Slovakia.
I still texted her regularly and even told her that I would visit her the next month in France but she responded less, ignored some messages completely and didn't give proper answers until I was ignored completely and I was too stupid to get it. I even managed to get blocked because I kept texting her every now and then (I didn't spam just a message every few days)
During that time I was completely heartbroken and didn't feel that great.
I was back home and told a friend about the story and he had, while both of us were in a good mood, the idea to call her as a joke. Of course she didn't answered and he messaged her once as a part of the joke.
Nothing happend for some time until he got a respond and she accused him for harassment and threatend with the police. I was of course speechless after he told me about it and I got the same message in the evening.
This was the moment it was over, I couldn't take her serious anymore.
This could be over but this shit is still stuck in my head since many many weeks afterwards and I couldn't explain myself why it went that way.
I know, I continued my trip and sort of left her but I told her that I'm going to visit her the next month.
Should I try to text her again or how do I get done with this bullshit story?
I know, it all sounds a bit weird but that's how things went, thanks for getting that far
Last edited: