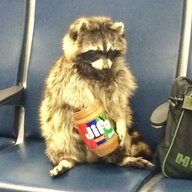 Joined

Nov 8, 2021
Messages

4
Reaction score

9
Location
Hey everyone! My name is Rowan (or Frog), I'm 17, he/they pronouns, and I've been pretty interested in this lifestyle for a while.
When I was little, I used to read books and dream about traveling on foot, maybe having a dog, sitting by a campfire and eating beans I've saved in my bag for the last week. Bit romanticized, I know lol, but that's not everything that's drawn me in.
I've always been kind of a loner. I don't have many in-person friends, over the pandemic I've grown a part from the ones I've had. I'm not close with my family, and I'm not super interested in living in the areas my family has lived in, so there's not much tying me down here.

Anyways, a bit about me. I'm a pretty big science nerd. Specifically, I'm super into paleontology and zoology, animals are my jam lol. My favorite animals are frogs, my past excessive frog profile pics on discord is why my online friends call me Frog. I'm pretty into cartoons, my favorites consist of literal kids shows, such as my favorite, Amphibia (and its not just because of the frogs I swear). Good show, I recommend it if you'd like to have something to play in the background until you get super invested in the plot and characters.
If I had to settle, I'd love to be somewhere cold, in the mountains, in some remote location. Somewhere far from my family hopefully.

In the future, if I were to settle down with a job I might go with some science. Maybe veterinarian science, or paleontology. I can see myself in sciences, or even technology. I have an internship at my school where I work at a help desk, and I fix students electronics. It's not much of software, more of hardware, physical stuff, so I have some small experience with fixing computers.

Anyways, thanks for reading, I know I kinda rambled. If you found any of that interesting and want to chat, let me know!