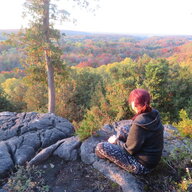 Joined

Aug 4, 2022
Messages

9
Reaction score

6
Location
Hey all! Looonngg time lurker, first time poster. I'm a forest gothic, hippy weirdo from southern ON, pretty much straight edge other than occasional drinks (yeah, prolly rare for an STPer, right?). I grow trees, make art, write and wander.
Never done any real hoboing in the STP sense, but done some bike trips, work exchange, and been homeless.

Currently I'm at a crossroads in life and am likely to lose my home again. Spent all spring in Toronto trying to move there, but gaddang, that place is EXPENSIVE!

Anyway, thinking of doing some bike touring of southern Ontario (grew up here, but never seen the place, ya know?). Hoping to make some new connections and hear from the pros.

Long term, looking for an "easy" place to be homeless in the winter. Dont drive, so car camping is out. But I work online (for peanuts). So otherwise, world's my oyster. Might go back to L. America.

Hit me up if anyone has any tips or knows the Great Lakes region of Canada and ever wants to meet up.

Cheers, all!