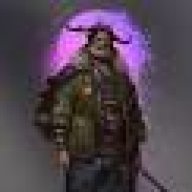 I'm a d-bag and got banned.
Banned
Joined

Dec 21, 2017
Messages

78
Likes

25
Current Location
Yeah, was not in support of 40k trump. Just suggesting what is going to happen if you think "older voters" are going to save you from Trump.

And highwayman, your missing soooo much.... the semi secrete chain link fema camps they've built all over the nation near railway lines, the fact that we employ 4 former US military "security contractors" for every 1 american serviceman in the middle east, the billions of $$$ of military grade equipment sent to US law enforcement agencies..

(nope, constitution still says you cant have the US military operating on american soil el presidente... but I got this idea... what if we get all the military to become security contractors when their TOS come up... we can use security contractors on American soil right?!? And can't we give cops assualt weapons, armored vehicles and body armor? They can deputize anyone we want right?....)

If it really goes down that way... its already way too late.