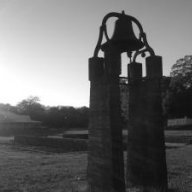 Joined

Jan 17, 2011
Messages

165
I couldn't find a thread specific to backpacking/hiking tents. I was just wondering how many other travelers use backpacking tents. I know hiking brand backpacks are becoming much more popular and it's easy to see why. They've become a lot cheaper and are much more comfortable than anything the military has to offer. So it seems that when traveling, your options as far as shelter are a tarp, a hiking tent, or a POS walmart tent with a tarp. unfortunately, when i first started traveling i made the mistake of getting a walmart tent. it was a 4 person tent because we were 3 people. the first time it rained we figured out they are far from water proof. so we ended up having to carry a tarp WITH an 8 pound tent. after a month we got fed up with it. our 3rd person left within the first week so it was unnecessarily big anyway. we eventually spanged enough money to get a nice tent. after a lot of reearch we went with the Kelty Gunnison 2.1.
Kelty Gunnison 2.1 Person Tent
We've been using it for about 2 months and LOVE it. got it for $150. it's double walled so it can be easily split up and fit in our packs. it's just 2.5 pounds for each of us which is super light. it's plenty roomy for me and my girlfriend and our dog. the two vestibules our perfect for our bags and keep everything dry in the hardest of rain. it traps warmth which is great in cold weather and can be pitched without the fly for great ventilation in warm weather. not to mention it sets up very fast and easy. even with the rainfly and footprint it takes less than 5 minutes. that's faster than any hammock or properly pitched tarp.(feel free to disagree, 5 minutes is still damn fast considering). without rainfly or footprint it doesnt take more than 2 minutes.
just wondering how many of you guys have started using these awesome tents. kelty, north face, eureka, whatever. I saw a couple when I went to the Rainbow Gathering in Ocala so I know it's not unheard of. Feel free to share your experience in hiking tents! thanks.