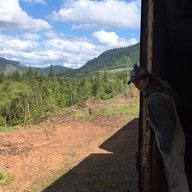 Joined

Jan 17, 2016
Messages

162
Age

24
Location
I once went 9 months and spent somewhere around $50, I spent money on shit I didn't need.

I've had zero dollars six times on this bicycle tour that I'm currently on (I'm approaching 6,000 miles)

I've never felt like I needed anything. I've also almost died a few times in my life. Had a few sleepless nights. It begs the question; what do you need?

People ask me this all the time. I tell them, I don't need anything, ever, if I start thinking you can give me something I need, then I'll need you, and it will create a huge inbalance in my energy, as well as maybe I'll start thinking you owe me something, which no one does. If it is truly a gift, people expect nothing in return. Giving is a gift in itsself.

People need food, shelter, sleep, and water. Not having these things for a little while will not kill you, but it might make your mental illness come out, in various forms.

If you don't have shelter and it's raining, all you gotta do is not sleep, walk around, and you won't die. This has happened to me several times in my life. I am a master at losing things I thought I needed, and then I learned to survive without them, I found out don't *need* them and I never did.


I am currently rolling with two signs. One says "be kind," and the other says "rode here from Oregon." When people ask me if I need anything, I tell them, no I never need anything really, but if you want to give me something would appreciate the gift, but you just talking to me is good enough in itself.

This is a diss to all the gutter punks who yell at people for not giving them money or wahtever. Be more self reliant and use what you have, I promise you will find more happinesses in life needing less.
Last edited: