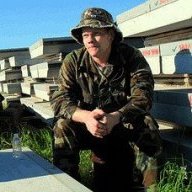 Joined

Jan 15, 2009
Messages

232
Age

49
Website
I'm starting this thread being I'm thinking about getting a new pair soon.
My best railroad boots as far as them holding up, being comfortable and spreading out my weight evenly has been "Red Wing's" slip-on style/type.
I wear size 13-1/2, so the Wal*Mart boots have been tough for me to find, but there's got to be somebody on "StP" that knows a place I can purchase a good pair! (Like a website I can go to for ordering)?...I would prefer slip-on's.
What has been the name brand, type and style that you absolutely love and cannot go without while out on the rails? !(Takes a licking and keeps on kicking)!
I have seen a brand with a lifetime warranty called "White's" that are supposedly only made in Spokane, Washington, but, I was told these cost around $600.00 a pair! I can dig into my pocket as deep as $150.00, but really no deeper.