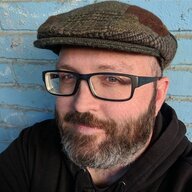 Nomadologist
Staff member
Admin
Joined

Aug 4, 2006
Messages

8,279
Likes

7,632
Current Location
Website
About Amazon's CamperForce http://www.interstellarorchard.com/2012/06/26/about-amazons-camperforce/ Last updated on 1/23/17 for accuracy.

2016 was my fifth year working in Amazon's CamperForce. I think most people who full-time must have heard about this opportunity by now, but I still get a lot of questions about what CamperForce is, what the pay is like, and is it worth it. This article is designed to answer all those questions and more, but first a disclaimer:

I am not a spokesperson or officially affiliated with Amazon in any way. This is just what I have found to be true myself from the holiday seasons I have worked for them. It is truthful to the best of my knowledge, but any of it could change at any point with or without warning, please keep that in mind. What It Is

There are three Amazon distribution centers in the US that hire large numbers RVers to work manual labor around the busy holiday season (and a couple others that will hire small numbers of seasoned RVers who've been in CamperForce at least once before to train in other facilities, but that's beyond the scope of this write-up).

There are several positions you might work in, all of which require standing on your feet for your entire shift. Some positions are more physically demanding than others, but from experience let me just say now that

it is hard work

. The pay is better than any other work-camping gig out there that I've heard of, except perhaps the sugar beet harvest in the far northern reaches of the country, and there is good reason for this. Here are the position descriptions, as pulled from workamper.com's page for Amazon and found true from what I've seen:

Receiving

: (Inbound) As part of our receiving team, you will be receiving and checking inventory from our suppliers. You will need to be able to lift, bend, stoop and squat frequently. (This is what I did in 2015).

Stowing

: (Inbound)You will walk 2-4 miles a day, and will lift, bend, stoop and squat frequently. Ability to read a hand-held scanner and climbing stairs up to 30% of the time is necessary. Our stowing team safely shelves the millions of items that come through each Amazon facility. (This is what I did in 2012 and 2014).

Sortation

: (Outbound) You might be using a hand-held reader to guide you in taking items from chutes and putting them into boxes, packaging items into a variety of shipping containers.

Shipping

: (Outbound) You could be standing scanning and packaging single items for shipment or palletizing boxes and loading trucks (I covered breaks for Outbound shipping team late in 2015, packing boxes in trucks – hard work!).

Picking

: (Outbound) You will walk 5-10 miles a day (I've heard of pickers who walked up to 13 miles a day) and will lift, bend, stoop and squat frequently. Ability to read a hand-held scanner and climbing stairs up to 30% of the time is necessary. Our picking team picks millions of items into totes and transfers the totes to a conveyor.

ICQA:

(Support team, but typically on Outbound hours) You will walk 2-4 miles a day, will bend, lift, stoop and squat frequently, and will use a step stool occasionally. You will read a hand-held scanner and count bins for accuracy. (This is what I did in 2013 and 2016).

NOTE

: If you're working in a

KIVA robotics facility

(Haslet is one), you won't be doing much walking with the ICQA, Stow, or Pick jobs. Instead you stand at a station and the robots bring the product to you.

These are not the only positions. In 2012 I worked a few shifts in ISS which handles customer complaints and is on Inbound hours, and took pictures of products and bins to resolve customer issues. In 2014 I worked one night in the Gift Wrap department, you can imagine what I did there. Receive actually has several different positions, when I've described in a later article linked at the bottom of this post.

Job Requirements

Besides being able to meet the physical demands of the job, you'll need proof of graduation from high school or a copy of your GED. If you haven't graduated from high school or gotten your GED, Amazon does have a program set up to help people achieve this. You can e-mail the CamperForce reps at the e-mail listed at the end of this article for more information.

All applicants also need to pass a drug test. This will require you to visit a medical facility about a month before your scheduled start date, and depending where you are camping then it could be a drive. When I was work-camping at Badlands National Park, I had to drive 90 miles which was basically a day trip.

Solo campers are as welcome as couples, but at least one person needs to work full-time hours. The second person may work part-time, or not be employed at Amazon at all. Hours are discussed more in a later section.

Locations

For the 2017 season, Campbellsville, KY and Murfreesboro, TN have been confirmed. Haslet, TX is possibly being removed from the program but there is talk of replacing it with a different fulfillment center in Texas.

As soon as I get official word I'll update this page

. Here are the blurbs about the three locations, pulled from Amazon's info page:

Campbellsville, KY

: Campbellsville is a city in Taylor County, KY, founded in 1848, and located in the heart of Central Kentucky; nestled between the Cumberland Plateau and the Appalachian Mountains – Covering 270 square miles and populating more than 22,000 people. Taylor County is within a day's drive to many major metropolitan areas, including Atlanta, Chicago, St. Louis and Cincinnati; and only hours away from Louisville, Lexington and Nashville. The area is home to a pleasant mix of agriculture, manufacturing and recreation. It is also home to Green River Lake, which offers over 33 miles of picture perfect water lying between 250 miles of shoreline.

Murfreesboro, TN

: Murfreesboro is located in the central portion of Tennessee in Rutherford County. Nissan North America is one of the county's major employers. In 2006 Money Magazine ranked the municipality as the 84th best to live in the country from a list of 745 cities which had populations of more than 50,000.

Haslet, TX

: Haslet, Texas is a suburb located about 20 miles north of Fort Worth straddling Denton and Tarrant counties within the DFW Metroplex.

Here are weather averages for all three locations, pulled from Weather Underground:

Location October November December Campbellsville, KY (temps are listed as hi/low in Fahrenheit)

Temp: 71/44

Precip: 3.5"

Temp: 59/35

Precip: 4.0"

Temp: 47/28

Precip: 4.5"

Murfreesboro, TN

Temp: 68/50

Precip: 3.9"

Temp: 58/42

Precip: 3.7"

Temp: 48/33

Precip: 3.7"

Haslet, TX

Temp: 75/53

Precip: 2.9″

Temp: 64/44

Precip: 2.3″

Temp: 56/34

Precip: 2.2″

Yes, below freezing temps can be experienced at all four sites particularly during the second half of the season, and if you look at records it's possible you could experience very cold weather. Even if you only have a three-season RV like me, you absolutely

can

handle these temperatures, just take precautions to keep your plumbing safe. I've written more about cold weather RVing in other posts linked below.

Hours, Season length, and Pay

Traditionally, the season starts sometime in September and runs through December 23rd. Yes, you do get out before Christmas (barring weather). Sometimes some people will get out a few days before December 23rd, but CamperForce representatives will tell you to expect to work through that date.

A limited number of work campers will start before September (in 2015 CamperForce had the earliest ever start date at August 16th in some facilities), and new hires will be starting on a weekly basis all the way up through the middle of November, so whether you're available starting in September or not until November you have options.

A full shift is 10 workings hours with a half-hour lunch in the middle. Work weeks are 4 days in a row on, 3 days in a row off unless you get the donut shift which is 2 days on, 1 day off, 2 days on, 2 days off. This all changes once overtime starts though. You'll also get two 15 minute paid breaks. Most sites have two shifts (day and night), Haslet has a mid-shift as well but no campers were given that shift.

You will let Amazon know which shift and job you would prefer to have, but there is no guarantee you will get what you ask for

. I've always gotten the shift I wanted, but I've never been put in the job I asked for – it all depends on what the company needs at the time you start.

Base pay for 2016:

$11.50/hour at Haslet and Murfreesboro, $10.75/hour at Campbellsville

All sites pay per hour worked, and all overtime (hours worked over 40 in one week) is time and a half. All sites also have a shift differential, where those who work nights and weekends get more per hour. At Haslet this year, the night shift differential is $1.00 more an hour, in the past it was only $0.50 more. In 2015, Haslet workers earned and extra $1.00 per hour on Saturday and Sunday (note, you needed to work both weekend days to get the weekend bonus), and that bonus started in early November. There hasn't been word yet on whether that bonus will exist this year.

Overtime

: Varies wildly between sites and depends on the department you're put in. It also varies from year to year.

At the now closed Coffeyville facility, overtime was never mandatory for CamperForce and wasn't common. Fernley (also now closed) had frequent optional overtime and occasional mandatory overtime. In 2015, those in the Receive department at Haslet had 50 hour mandatory weeks from mid-October up until the end of November with an optional 11th hour for a total of 55 hours a week, but those campers in ICQA didn't have nearly as much overtime. Campbellsville traditionally is not heavy on overtime, I've never heard about Murfreesboro.

In general, if you're in Inbound you'll have overtime opportunities earlier in the season, since Inbound's peak comes earlier to get the warehouse stocked in time for Thanksgiving. If you're in Outbound your overtime opportunities are almost guaranteed the weekend after Thanksgiving and continue up until just before Christmas.

Pay periods:

At Coffeyville and Fernley, campers were paid on Friday every other week. At Haslet, campers are being paid every week. The work week starts on Saturday at midnight and end at 11:59 pm on Friday (for those working overnight shifts it's a little different) and the check is paid the next Friday.

Benefits

All campground costs (electric, water, sewer, and honey wagon services where sewer hook ups aren't provided) are billed directly to Amazon during your employment from

two days

before your start date to

two days

after.

Last I heard

. The rules on that seem to change frequently. Propane is not included.

There use to be a 10% discount on things ordered online, up to the first $1,000 spent – which equated to a maximum of $100 off if you do the math, but that was discontinued in 2014. Instead, seasonal employees are now eligible to enroll in health care through Amazon after they've been there three months – something which might be useful for their other temp employees but isn't really for full-time RVers who pay for their own insurance that will cover them as they travel and whom usually don't make it to the three month mark.

There is a completion bonus you receive for every hour worked if you finish the season, it use to vary between sites but as of 2015 it was $1.00 everywhere, which equated to about an extra two week paycheck if you work 10-12 weeks. Because of the hard work and cold weather, a lot of people who start will not finish the season, so the bonus is Amazon's way to try to keep you there once you start.

While not listed as a benefit, some swag is handed out as part of the CamperForce experience. A lanyard and that year's CamperForce tee-shirt is a guarantee. In 2012 I won a drawing for a $50 pre-paid visa card, the frequency of these handouts seems to vary a lot from site to site and year to year.

Meals on site are also occasionally provided by Amazon, the frequency again seems to vary widely. At Coffeyville both years there was a Thanksgiving meal and a Christmas meal, both of which were quite good. At Fernley and Haslet there was one holiday meal. Often there will be a donut and juice day, and a cookie and fruit day as well.

There is also a referral bonus of $125 for every person/couple you refer to the CamperForce program who gets hired and works for at least 30 days. If you do this, the extra money gets added to your weekly paycheck once you turn in the referral form (if you're going to work in CamperForce this year thanks to this information, my full name is Rebecca Schade, hint hint).

Reality Check
There are quotas to meet, both per individual and by group and shift. How strict your supervisors will be about meeting those quotas varies widely and seems to play a big part in how people rated their CamperForce experience. Starting in 2013, CamperForce workers individual goal was only 85% of the full-time Amazonian's goal, which all but a couple of people were able to make.


You will be working alongside permanent Amazon employees, and people who were hired through other temp programs. In an ideal world all employees would treat each other with dignity and respect, but this is not an ideal world.


No cameras, and thereby phones and the like, are allowed on site. This is strictly enforced.


There are metal detectors and security agents at the entrances/exits. Expect to have to deal with the hassle.


You must be not only punched in, but at your station by the start of your shift, or by the end of your lunch. This means that you actually need to arrive to work a good deal early to get to your station on time, and don't have time during your half hour lunch to go back to your RV unless you're at a campground right across the way (and even then you better move fast).


You will be on your feet a lot. Every account I have read has considered a pair of high-quality tennis shoes to be a must, most also buy gel inserts for their shoes. I've found that I have to replace my shoes every two Amazon seasons because they wear out (this being my fifth season, I'm on my third pair).
The Hiring Process
Once that is done the applications are reviewed and the most likely candidates are contacted to attend an online webinar, a few different dates and times are offered over the course of the summer and you only need to attend once. The webinar is scheduled to last an hour with a Q&A portion at the end, but the actual length can vary. After the webinar you'll be offered a position under the condition that you meet the job requirements as listed above. A hint: if you make it to the webinar process, I've never heard of anyone not being made an offer afterward. Returning workers did not have to do the webinar again in 2016.
If you accept, you'll get additional information from Amazon about what comes next, and the contact list for the campgrounds at that site.
Amazon will not reserve a campsite for you
they just pay for it, so
it's up to you to contact the campground you're most interested in at set up a reservation
.
This should be done as soon as possible for the best selection of sites.
Notes:
If you apply early in the year, it may take a while for Amazon to get back to you after you submit your application to set up the webinar. This is normal.
Normally the drug test needs to happen within 30 days of your start date, at Haslet in 2016 I wasn't contacted for the drug screen until about two weeks out. Amazon will send you an e-mail asking for the physical location you're based at, and then send you a list of clinics where you can go in for the drug test near you ("near" may not be really near though if you're in a remote spot).
Within a week of your start date, you'll receive an e-mail with a link to a website with a bunch of online forms you'll need to complete before your Orientation day. These include a non-disclosure agreement, harassment policy, etc.
* * *
This article was originally written in the summer of 2012, and has modified heavily since then to keep it accurate. Here are links every post I have written about CamperForce since then, which talk more about orientation and what the work and pay is like, and more about dealing with the cold weather.
2012 season:
2013 season:
(wrote mostly about what was different from the previous year, this was my coldest camping experience to date)
2014 season:
(didn't write much because I knew Fernley was going to be closing at the end of that season anyway)
2015 season:
2016 season:
http://www.interstellarorchard.com/2012/06/26/about-amazons-camperforce/