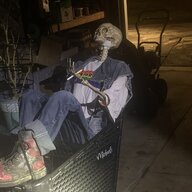 Joined

Apr 23, 2021
Messages

22
Reaction score

19
Location
So I've kinda given up on making plans. Since I've started traveling, over half of the plans I've made to go certain places and do certain things ended up not happening because of something else that came up. But I still like to idly wonder "what if I did this?". So here's my latest "what if?"...
Right now, I have a vague desire to go back to my hometown in (southern) Illinois for the summer. My dad said he could get me a job working in construction with him if I did. So if I am able to get a construction job for the summer, I'll be staying there for a while to build up my funds while its warm.
I have people I can stay with there, but I'm starting to worry I've been a freeloader so I'm gonna try to figure out my own housing. I was thinking I'd try to rent, but I don't think I can afford that, honestly. and at that point there wouldn't even be a reason to get a job there. I've done a little math, and I could just go and break my back doing some more carny shit for a while and save up the same amount of money in a shorter amount of time.
SO... What if... I started a squat while I was home? I've been looking around at squatting information. and it seems simple enough. if I'm only planning on being in town for a couple of months (from about April at the earliest until September at the latest?), it would probably be ideal.
I know there's certainly houses around town that I could squat in. abandoned and run down. I just need to find them. I could even fix them up a little bit. maybe put some of that construction knowledge I'd be learning to good use!
So I've been looking at Zillow, specifically, to look at some pre-foreclosure and foreclosed homes. they're all listed as "Judicial", though, which I have heard is not what you want. I get the feeling I'm actually gonna have to walk around town and find some homes that 1.) clearly no one is living in and 2.) clearly no one has lived in for a while.
I already have some ideas of some neighborhoods I would check out.
I kinda have this idealistic vision of like... having a little garden... cookouts with dumpstered food and firepits... filling it with furniture from off the side of the road... I know that's a lot to ask for from a squat. all you should really ask for is a place to sleep, and that's not even guaranteed. one well placed phone call and you're out, pretty much. But if there's one thing kids like me are good at, it's dreaming!
if anyone has any tips for me, they are absolutely welcome! or if you just wanna slap some reality into me with comments like "you absolutely should not have cookouts or firepits outside at your squat" and such, those are also welcome! There's almost definitely a lot of things I'm failing to consider. And even more things that I am considering but just don't know enough about.
I'm gonna keep reading online about squatting. I know that I'll want to be able to show a cop some proof of residency if one does show up. I'd like to figure out how to turn utilities on, if possible, but I don't think that would be absolutely necessary. It'll for sure be something I'll have to feel out as I go.
I'll try to update here if this idle dreaming goes anywhere