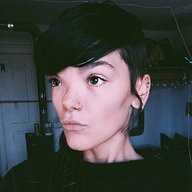 Joined

May 24, 2017
Messages

43
Location
Website
Hello ladies and gentlemen, and everyone in between
Three weeks ago I was bored, so i decided to take my butt to Spain (again) to meet up with my husband that was on his way back from the Canary Islands. Getting there was easy as fuck. Got on a fast train, lied to the employee saying I didn't have any fucking money and absolutely needed to reach barcelona for work reasons, and he let me stay on but asked me to give an (fake) address so the company would send me a fine (lol nice try)
Seven hours later I was in Barcelona and caught another train to reach the city of VIlanova.
There I had friends who were waiting for me in their castle-squat. Had a pretty mellow evening, and the next morning-afternoon we all had beers on their rooftop terrace.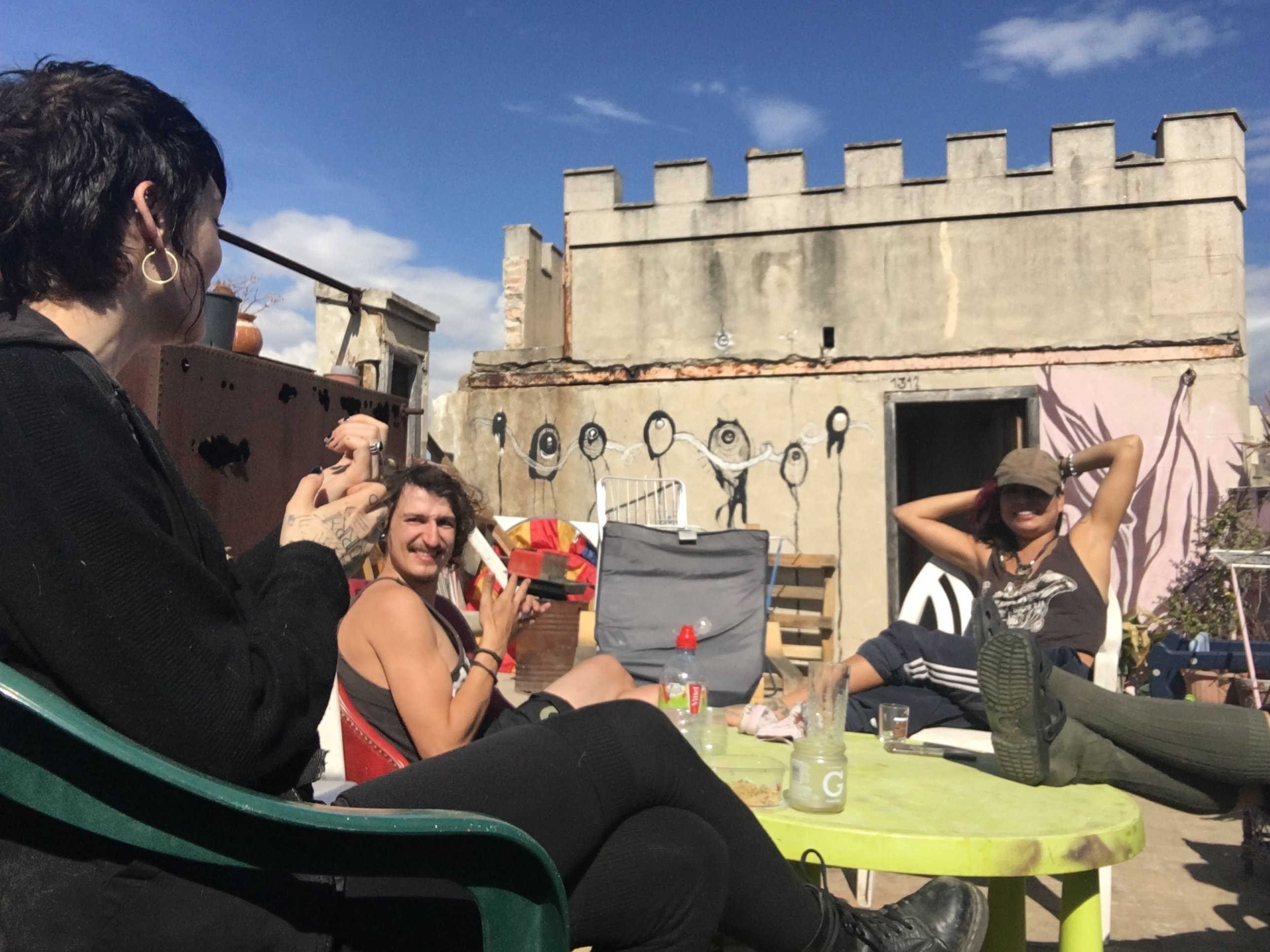 With time, i've come to the conclusion that all Spanish squats are a time capsule. The days and nights look the same. Sunlight, good conversations, friends, and A LOT of terribly awesome-but-still-lame eurodance trash music. How Much Is The Fish by Scooter is stuck in my brain ever since.
The first few days were spent between going to the beach and hanging out on the roof. On Wednesday, me my husband and a couple of friends all took a train to Barcelona to visit other friends in their squats. The fun thing about the squats in that city is that most of them used to be industrial buildings and factories so the space in which you're allowed to have fun is endless. To summarise: the first week was a lot of back and forth between the castle squat and the industrial squats.
I normally don't really take chemical drugs that much, but my experience with Barcelona is that any living room you walk in, for some reason there's always a mirror covered in lines of ecstasy. Pinks, blues, oranges, greens... Endless nights that end up with people laughing and talking shit on the roof, and trips to the corner store to buy beer at 10 in the morning.
The weekend of the second week, the castle squat had organised a tattoo workshop. in one room, artists brought their own needles and machines and offered to tattoo people for the equivalent of the price of a beer. In the second room, dismembered tattoo machines and boxes of cables and screws were scattered all over a table, and with the advice of a few experts, you could build your own machine from scratch. In the third room, the house had installed a bunch of couches and tables for people to hang out, and one of the guys of the house was celebrating his birthday. It wasn't long until it was 10 am, everyone was high on ecstacy participating in a ping pong tournament on a table built with 3 boards and 4 chairs. Meanwhile, me, Ash, and Martin that I met that night went on a trip to aldi to get beers and cheap champagne. Ash was the highest of us all because he was using his mediocre spanish-with-an-australian-accent skills to talk to literally everyone we met on the street. The cashier in aldi was mortified because he kept rambling about discounts on microwaves and neither her or us could get him to shut up x)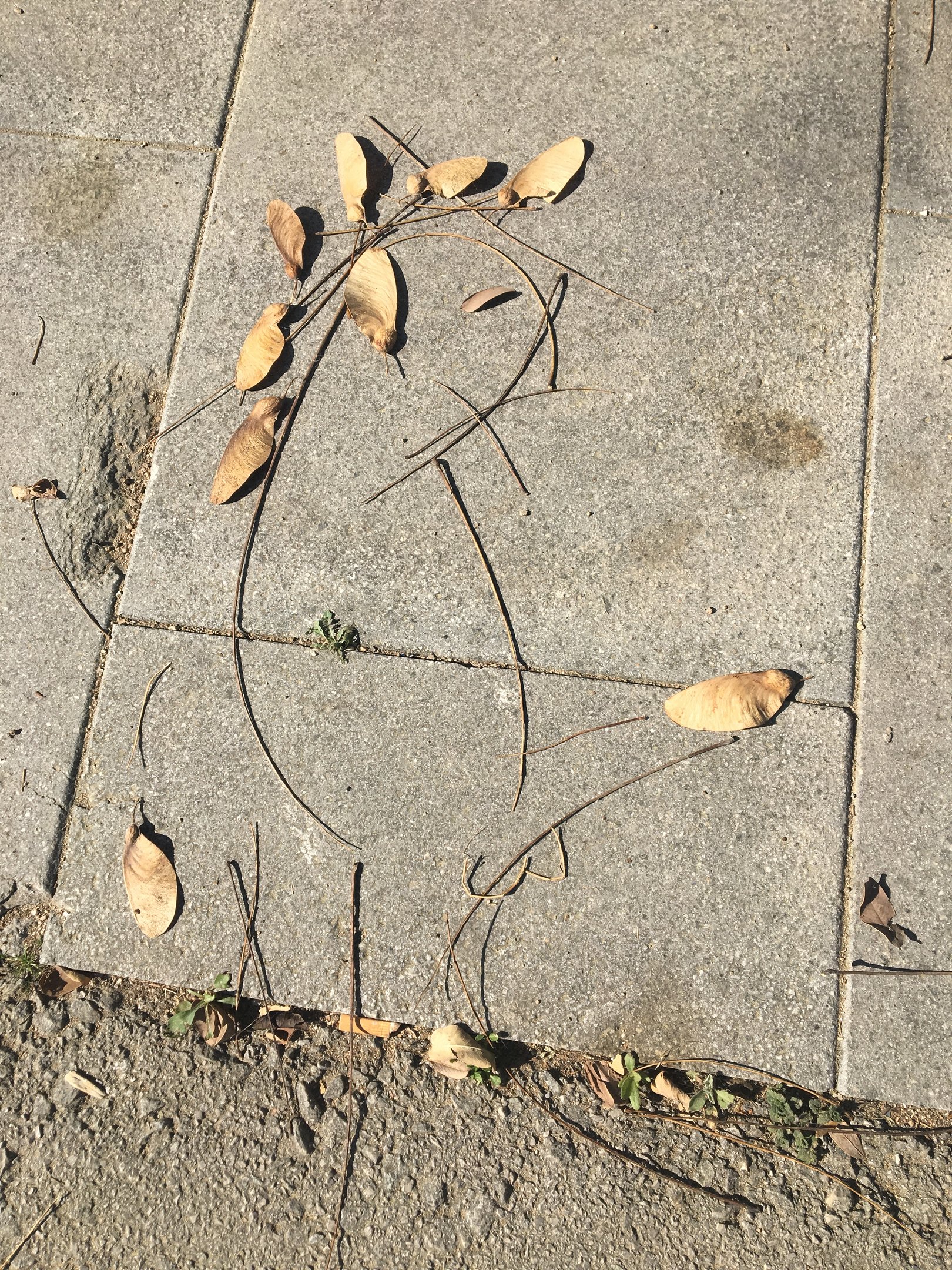 Ash makes questionable art when he's high..
​
On the way back from the store we decided to take a break and sit on a bench (yes a 5 minute walk is a long way at 10am lol especially when the squat is 100 meters away from that bench) Half an hour later I was rolling around on the floor in the sun when I had an epiphany: "LETS TAKE EVERYONE FROM THE HOUSE TO THE BEACH!"
And so we went, and listened to britney spears with our feet in the sea.
Two days later it was time to head back home. So, me and my husband caught a train towards France. It was our lucky day because we didn't get kicked out a single time. A friend of mine had invited us to her squat in the south of France so 3 hours later we were in Argeles Sur Mer looking for her house. didn't take too long to find it, and I was pretty happy. I love the vibe of newly opened squats because everyone is super motivated to fix old things and install new ones.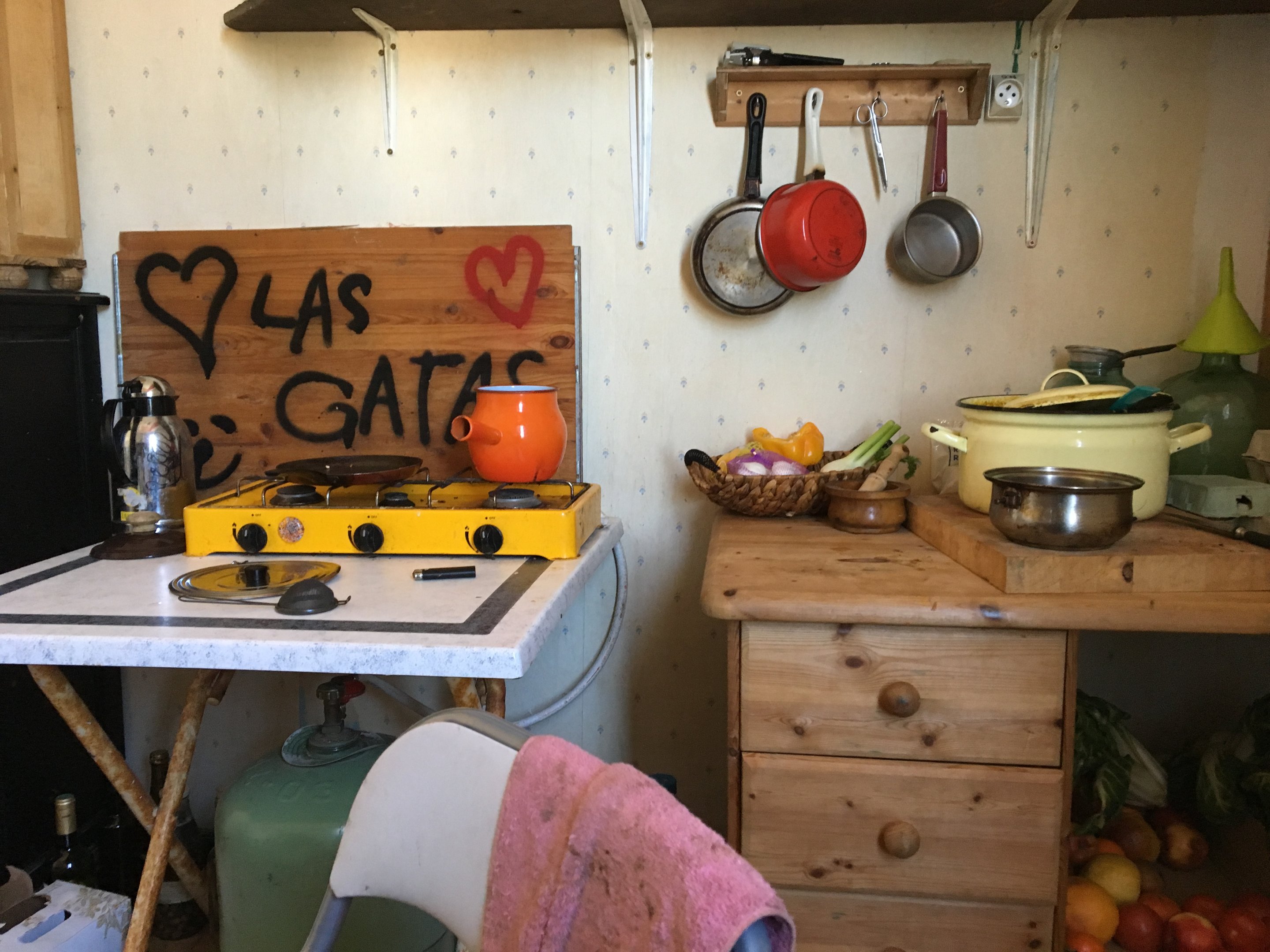 Kitchen of Las Gatas squat in Argeles Sur Mer
​
it was march 19th when we arrived, so two days later, after going recycling from supermarket dumpsters and taking a walk through the vineyards with the dogs, we had a spring solstice party. Apparently i've reached the age where I build altars and drink wine with my friends. One girl from the house also had tarot cards so we read the instruction manual and did a few readings for fun. According to my cards some wealthy blond businessman is going to mess up my love life soon hahah.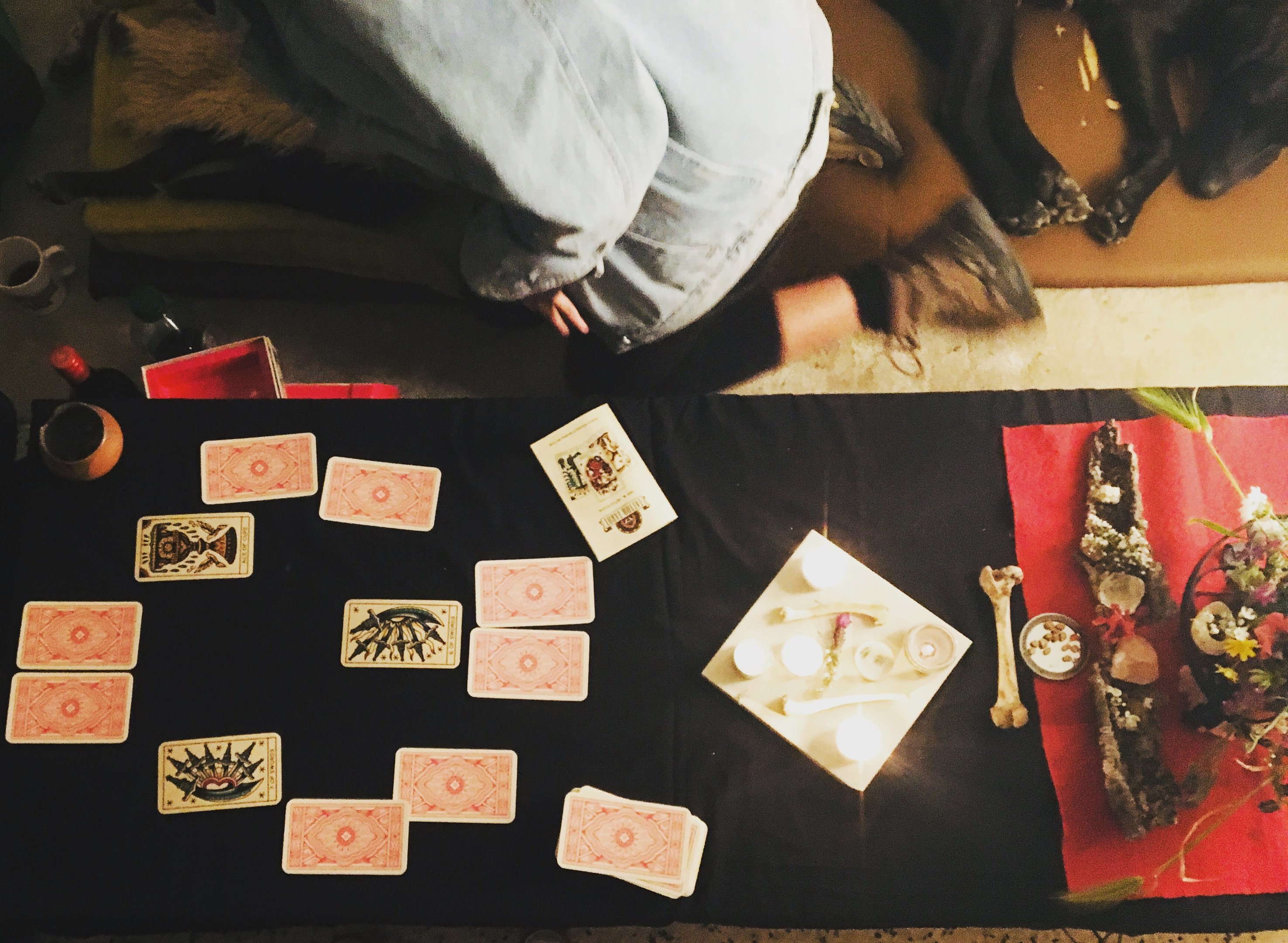 our sexy living room table for Spring Solstice
​
The next morning we caught a train to Lyon and had to spend the night there because there were no more trains going to my city. That's the exact moment I knew I was gonna miss Southern Europe spring temperatures, and I was so right. We woke up in our tent in the morning, and the top of my backpack and sleeping bag had a layer of ice. Ew. I hate the cold.
But here's to an ever growing collection of friends and adventures... For now I'm back home and have to deal with an invasion of mice in my bedroom
woohoo