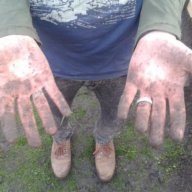 Joined

Jan 24, 2014
Messages

74
just gonna leave this here.. and state that had it not been for footage of what really happened, i would currently (and unfairly) be seven months in on a three year stretch in prison for felony assault on law enforcement. know your fucking rights and use them because cops are legally allowed to lie through their teeth right to your face and the state banks on YOUR conviction. fuck da police.
http://reason.com/archives/2012/04/05/7-rules-for-recording-police
i understand that we are a different breed in the eyes of the police, but if you know your shit, aka the state laws of wherever the fuck you happen to be at the time, and you let them KNOW YOU KNOW, you are much less likely to have your ass fucked (excuse my terminology) by a dirty cop who thinks you're just another ignorant vagrant anarchothreat.
also, if they know they are being recorded (hopefully by someone who *isn't* being detained), it is less likely that you'll get roughed up or fucked over. i can't even count how many times i've had my pack either left where it was for the homebums to rummage through or torn apart where ever they take the possessions and half of it never got back to me, how many times i've been flat out punched in the actual fucking face or had my shoulder dislocated by a cop who knew nobody was around to see it.
cops hate us, we hate cops, i'm not saying bust out your smartphone and start nananaboobooing in their face like "I'M RECORDING YOU MOTHERFUCKER", but it's always a good idea to have proof of what went down. is the judge gonna believe your transient ass? no, they think you harass the locals and rob gas stations like the last couple of idiots with dreads and face tattoos that got arrested there. are the gonna believe the cop? OF COURSE, IT'S A COP.