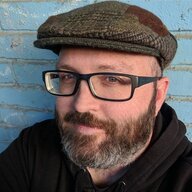 Permanent Wanderer
Staff member
Admin
Joined

Aug 4, 2006
Messages

10,301
Location
Website
hey everyone, i just wanted to post a little something to let you all know where things are at right now.
personally, im up in washington state visiting my folks for the holidays once again. i'm hoping to not stick around more than 3-4 months while i write the StP book i've been talking about all this time... speaking of which, it's going pretty well, i'm basically dividing up my time between writing and working on two (paid) website projects right now (since they're my only form of income at the moment) and the StP project i'll mention in a moment...
i'm mostly working on the book and my personal health right now, since i've had some issues in the past few months related to being overweight, so i've decided to concentrate on these things until i get back on the road. this means i've decided to drop doing the podcast for now unfortunately, since i barely have enough time to write and do other miscellaneous real life things right now. its still something i want to do, but it's something i'd like to do when i can put 100% of my focus on it.
unfortunately the previous article system was kind of a failure, since it was essentially confusing as shit to moderate between incoming articles and threads, and i also was not a fan of how that plugin system kind of reinvented the wheel in a lot of ways. frankly i don't understand why someone hasn't written a plugin for xenforo for
simple
article creation. for right now all we have is the 'article' thread prefix, which is okay, but not ideal.
the other StP thing i want to do that i think will be a little more useful is the wiki. basically i talked to the plugin author of one plugin in particular (that we tried before and didn't work out) and convinced him to add some crucial features that will likely mean StP will finally have a fully functional wiki system. My plan is to basically replace the entire 'destinations by region' area with static wiki pages. these pages will also have a discussion thread for each one, and be designated with the 'wiki' thread prefix for easier searching.
the idea is that hopefully this will provide a place for people to either edit a
wiki page
to add info, add info via the discussion threads, or ask questions about a certain area in the same discussion threads. if things get messy mods can come along and compile anything in the discussion threads into the wiki page. i'll be disabling folk's ability to create new threads in that section, instead funneling them into the wiki area where they can create a wiki page for a destination that isn't in the wiki yet if need be. this should effectively eliminate multiple threads about say, boston, into one wiki page and one discussion thread (attached to that wiki page) so all information that people have chosen to share is available in one place.
that's the idea anyways. i'm also planning on creating wiki pages for other kinds of content like website updates; basically like a software update log, so there's a place where folks can look back and see if something on the website was changed. i know i make a lot of changes on here that aren't really announced, so i hope that having one page to log these kinds of things will eliminate that confusion.
anyways, that's it for now. if anyone has suggestions (for anything), i'd love to hear them!