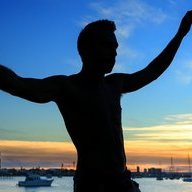 Joined

Jan 18, 2018
Messages

3
Location
Hello Everyone!
Just wanted to share this event going on in turkey. Its the Turkish Highline Carnival 2018 happening in the small town of Geyikbayiri near Antalya in Turkey. Its my first time going to the event so im very excited. It takes place from february 17th till february 24th. I read theres people from all over the world coming to highline and enjoy all the good vibes.
My plan is to arrive in Antalya, Turkey on the 15th of february and plan to stay during the whole festival, stay in the small town a few more days to do some rock climbing and then slowly head up to Istambul. i would ventually cross over to Bulgaria and then explore some of the balkans and eastern european countries. ideally i would like to find a boat somewhere in the Mediterranean to cross the Atlantic back to the Caribbean, to finally get back to
Mexico
.
If theres anybody interested in joining for the Carnival or maybe just meet up along the way it would be great.
Also, if anybody has some info about squat houses around the balkans, eastern
europe
would be great as well.
you can find more info about the event on fb as Turkish highline Carnival THC
hope to see you there!
JC