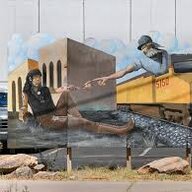 Make America Freight Again
Staff member
Moderator
Joined

Dec 12, 2014
Messages

2,391
Age

33
Location
Website
Ok. This is going to be incredibly difficult...

After a long time of trying to discover myself, I have realized that I believe this community may be the best place to voice the views on my own sexuality, and receive views that may help me in the struggle to make them OK in my mind...

I think I've come to the point in my life where I am OK with my Bi-sexuality.

It has been a long road. I have been incredibly embarrassed, and anxiety ridden about my sexuality for a long time. I recently "came out" to one of my best friends (male), after I confided in his sister, and she went behind my back and told him I had a sexual crush on him.. it was very hard. This was my best friend. For 15 years.

He knew (kinda) before hand. I have tried, both forward, and discreetly to get him to "experiment" with me.


I got shot down hard. Although he has previous interest in experimenting with me, he has now come to terms with his sexuality, and told me he wants nothing to do with experimenting. He is super straight.

I really, really wanted to explore with him. It was hard for me...but I expected it, and I missed my chance.

Anyway....i think I'm Bi. This is the very first time I've EVER told anyone this besides him. It's very hard. And I'm kind of embarrassed. But I know I shouldn't be.

Here's the deal. I love women. I can only date women. That's a hard line....

But....I am like really attracted to sexual acts with men. Only sex. I've tried to "get over this" but I cant. The main thing I've been thinking about is getting into some fun with a couple. That is like, ultimate with me. I want a couple.

But at the same time, I fucking hate men, they are disgusting, and pushy, and dominating.

Ugh, I dont even know where I am going with this cause I am intoxicated (as always)... .

I dont want anything to do with dating men, but I like experimenting. I would love a women who could understand this and like to perhaps have menagietois with another guy and be down with bisexual acts.....but that is very hard to find.

I dont know....I though it was about time to have a conversation with a group that may understand this, and see if I can get some positive responses.

I feel like people will judge me for this, and mostly have negative reprocussions. I know many people on this website, and I hope not.

I dont know what to say? I am definitely straight, but am also Bi? Please give me your ideas....there are alot of bad ass LGBTQ people on here....I'd love your opinions....