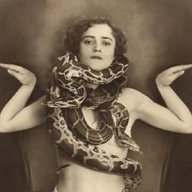 Joined

Jul 16, 2008
Messages

946
Location
Website
Before I start I want to state, not all travelers/squatters are like this, Ive just seen more and more kids throw away their values and respect while their traveling(most of this comes from drugs and booze) and end up just saying "fuck it, i dont care, lets get drunk." And then there's the political activists who think they know the world's corruption and decide to fight society and everything that keeps them alive. one word; retarded.

I would also like to add that all my facts may not be solid, but if you get the general idea then that is the point. If someone wants to argue with me about government or how theyre not like that, keep it to yourself.

It's all about perspective:

I hear kids complaining about people judging them by their appearence and calling them drunk useless leaches, but street kids do the exact same thing by judging them and calling them brainwashed money hungry yuppies. Its not us and them, we're all people, we all have rapists, assholes, drunks, ignorants, intelligents, addicts, and good people in any kind of classification of people. housie, yuppie, homebum, traveler, hippie, whatever. We're all the same we're just into different clothes, drugs, and ways to survive.

Anti-society Mentality: I dont like how things are run either, but stop spewing word vomit about how brainwashed and heartless people who have jobs and homes are because they didnt give you a 10 dallar bill for your next space bag. You need to respect and be greatful for what people give you and shut your mouth when they dont want to pay for your next pack of smokes. Being a disrespectful fuck makes us ALL look bad and the nice people helping you out will stop giving if they think they just got swindled.

yes, the human race(including you) DOES need eachother. It's our nature, our instincts to take care of eachother. Unless you live in the wilderness in a tree alone and eating animals you killed with a stick sharpened from a rock and your sober, you rely on society. No matter how much you talk about revolution, anarchy, taking down govornment, how fucked up people who dont help you out are, being different, living under the radar, or how much smarter you think you are than the rest of the world, your still not actually EARNING your own money, your sitting on your ass playing a guitar or just lazily asking for someone elses money for nothing in return, so show some damn respect when someone would rather pay their meter than give some smelly drunk guy a dallar and remember to show thanks and respect to good people. your still relying on that "stupid yuppie" to give you:

-money to get you booze, food and smokes
-fund your new pack and sleeping bag after yours got stolen
-to waste or give away the rest of their their $10 meal so you can eat something other than the ramen you got from the food bank wich society and working citizens(those damn yuppie fucks) pay for also...


and society even pays for your:

-trains(without supply/demand there's no need for trains.)
-bridges you sleep under(matinence and those guys hired to clean up dirty rigs(never nice waking up with one next to your face), your leftover broken 40 bottles(which fuck up dogs feet by the way assholes), human shit left by homebums and that one guy who had whiskey shits, shopping carts, and fix the fences you used wire cutters on because you say its stupid to put fences up to keep homeless out of a dry area(hey guess what? those fences being there also keeps police cruisers out)
-food banks(wich even though its free ive heard many people get pissed off at the cheapness/freshness of the food and make volunteers not want to help out young travelers)
-homeless youth centers and homeless shelters(yeah those cool places with showers, toilets, clothes, condoms, information and programs to get you on your feet, hang out area, food, and sometimes beds meant just for you is paid for by those yuppie fucks paying taxes on their "useless crap" and donating.)
-free vet care so your road kittie/dog/rat/monkey/whatever is healthy, happy, and well fed
-Foster Care and CPS so there's not unwanted lost kids left somewhere or waiting in a shithole(because your fighting the system by not getting a job) waiting for their drunk selfish parents to remember they have a kid who needs them and come home instead of being self centered about their "freedom of being on the road" and running off and hopping a train whenever a problem arises leaving the kid with "anyone"(even people you think you can trust may be a fucked up individual) who will "deal" with him/her. So the kid just waits his/her whole life in hopes their mom or dad will find them and things can be explained about why they were left them at "unkle joes house" who turned out to have a thing for little kids and why the kid had to learn to survive on the street at 12 years old because he/she got fed up with getting beat and used by whoever decided to take them in. (but that wont happen because the bottle in your hand makes that thought fade and everything okay right?) just to add: just because you were treated like shit when you were a kid is no excuse to fuck over your own kids.


"Fuck the government we dont need em!": yeah our government is full of lies, conspiracy, and scandal but smoking a bunch of pot and doing acid while holding a picket sign isnt going to change that. Nothing will realy. want to know why the people dont revolt? we're spoiled as fuck as americans and most of the population is busy making a living so a quarter of their their pay checks can go to your SSI check you get every month even though you arent disabled...thats not scamming the government that just makes you a professional mooch. Government is not independently wealthy, thats not Obama's pocket cash, they take it from the people. and that money does eventually run out. It's estimated to run out in the next 10 years because so many people claim to be disabled when the worst mental ailment they have is lazy-fuck-syndrome.

*immediate emergency care and free health insurence when you make little to no money is required to give in America...pretty neat because there are countries that exist that dont give you medical attention(even near death) unless you have the money(or a chicken in some cases) to pay before hand.

For homeless most of this is free and if not we dont pay for it anyway(but doctors, nurses, ambulances, and medical equiptment still cost money...taxes once again pay your bills) you dont need societies' bullshit medical care eh? you can take care of yourself with tea tree oil, a needle, and dentle floss? well for those times when you eat your words and something real happens to you, working class citizen's taxes will also pay for when you:

-overdose off drugs that you paid for with their money you spanged earlier
-get pnemonia during winter
-almost die from alcohal poisoning
-free abortion when you get pregnant by a one night stand or rape and you know you cant handle having a kid or adopting it out
-free birth control for your girlfriend so your not a runaway daddy before your time
-dont change your socks for so long your feet(the only thing a traveler realy NEEDS) start dicentigrating or gets badly infected(because its "cool" to be a walking sespool these days right?)
-Free medication for scabies, infections, viruses, pain, allergies, asthma, insulin, oxycotin, and that herpies-a-way cream, HIV treatment pills, and the cymidia injection you now need after many drunken thoughtless one night stands
-break a bone or lose a limb from hopping freight, they'll seal it up, drug you up, and hand you a plastic replacement limb
-get your face stomped in simply because someone didnt like the way you looked at them
-even when you try to kill yourself they'll revive you and find you some help

Now i'm not saying "get a job ya bum!" i'm just saying that you give what you get and dont fuck it up for everyone else by being an asshole.

remember, im not saying everyone is like this i'm just ranting because the past 2 years ive been noticing these bullshit ideals and actions double. Question things and listen to your concience but realize a big reason for this rant is about disrespectful douchebags complaining about how fucked up the world is then turning around and making it even worse by fucking over or hurting everyone they come in contact with. why? because they justify hurting people because people have hurt them. Sounds like pretty fucking stupid logic huh?