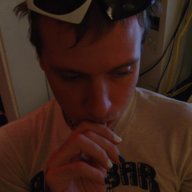 Joined

Mar 21, 2016
Messages

63
Reaction score

53
Homebase
Website
Hello fellow squatters & misfit travelers! Tony Longshanks here, currently in Portland, Oregon, soon to set forth on a journey by foot into Washington state.
I believe I've been looking for a site of this general description for a while now. A friend of mine from the Slingshot (newspaper, based in Berkeley) referred me here. I'm trying to kick my unwholesome addiction to Facebook & replace it with alternatives, in both senses.
While living in San Francisco in 2011 I became houseless for the first time, & was introduced to the world of
squatting
& life outside the capitalist drone plan courtesy of Occupy Wall Street & Homes Not Jails. It came as nothing short of a life-transforming revelation, & I never looked back at my old life of scrambling to make rent & spending all my energy as a wage slave. I haven't paid a penny of rent since mid-2011 (something I'm rather proud of) & have continued
squatting
,
camping
, & slumming it in various creative ways ever since!
My zine SF Resistor goes into detail about all this, but I won't post a link yet, since I'm still being vetted as potential spam.
For my second post I'm going to share a piece about my recently deceased friend Michael Clift, concerning a squat I briefly shared with him in SF in 2013.
I'm also hoping to hook up with some cool people in Washington state---in Oly (where I used to go to school), or Tacoma, or Seattle (my intended destination)---when I begin my hike up there next month (April 2016). The next phase of my life is open to all possibilities & I'd like to find some kind of community to plug into.
I'll keep it there for now. Please to meet y'all