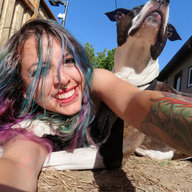 Joined

Sep 9, 2019
Messages

5
Location
Hello, introductions are weird. I've lived in mostly the same area of Oregon my entire life, and became homeless at the beginning of summer. Now that I'm homeless, I figured there's no reason to stay in one place.
I'm currently without vehicle, and bumming about along I-5 hoping to find some sort of work. I would like to at some point have a vehicle, as my dog is rather pathetic in the rain. By the way, I have a nearly 9 year old service dog, and he has adapted wonderfully, better than I could have hoped, to living outside.
I'm on social security disability, but trying to live off of that with a roof over my head started to feel like a joke. I thought having my ileostomy (similar to a colostomy, but also different) would be a bigger problem than it has been. Emptying a bag instead of finding somewhere to squat and shit has made many of my friends jealous.

I'm here looking to connect with other people, potentially find some travel buddies and/or rides, and just connect with other people.
I'm new not just here, but relatively new to this lifestyle, so helpful tips are always appreciated.