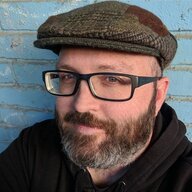 Semi-retired traveler
Staff member
Admin
Joined

Aug 4, 2006
Messages

9,463
Location
Website
I am very excited to announce that the StP bandanas have been printed and are now in my possession, ready to sell to the masses. After a long and exhaustive search (and a very kind loan from my gf) I was able to find a printer capable of screen printing the design the way it was intended and pay for an initial run of 50 bandanas.
Behold! Here's a picture I took yesterday of what the finished product looks like:
There are more pictures on the StP Etsy page:
http://bit.ly/stpbandana
Use the link above if you would like to order one. I am accepting international orders as well as domestic in the USA. You'll have to use the shipping calculator in the shopping cart on Etsy to see how much shipping will cost to your country.
The design of this bandana was a collaborative effort of the community. After many months of input, this is the final design that was decided upon and I feel it represents many (if not all) aspects of the underground traveler culture through the various imagery included in the design. You can view the original collaboration thread here:
https://squattheplanet.com/threads/the-stp-bandana-project.20234/
There's something for every traveler in this bandana, from the road and railroad tracks that make up the border, to the LGBTQ compass/globe that represents our philosophy that no one should be excluded from the traveler culture. Various hobo symbols are a tribute to the world of train hopping, while images of a guitar and violin represent the musical side of the community. There's even throwbacks to various pirates of days past, bike punk culture, and modern day anarchist activism. In all, there's a ton of imagery here in this custom-designed bandana that is completely unique.
All this is printed on black fabric with white ink to make a bandana that spans 22" (inches) square. The black area between the design and the fabric's edge is one inch. It will be shipped via USPS ground in a plain manila envelope to protect it during shipping.
The cost is $15 per bandana.
I know that's a little high for some, but the price breakdown comes out to $6 for each bandana (fabric, ink, printing, shipping); giving paypal and etsy their cut (around $2 per transaction) and finally shipping and materials (about a dollar per bandana). After other miscellaneous costs (gas for trips to the post office, etc) this leaves me with only around $5 profit for all my work, so hopefully you understand that I'm trying to make it as cheap as I can afford!
A huge thanks to everyone that gave their input on this design and
@ellilis
for the initial template. If you have any questions, please make a post in this thread and I'll try to get back to you as soon as possible.