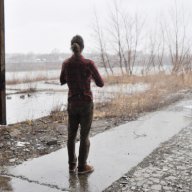 Joined

Aug 31, 2011
Messages

72
Age

38
Location
Website
http://www.bangersandnash.com/hey-fool/the-man-who-quit-money/
This sort of story has always appealed to me. The kind that inspire me to think a little differently, maybe change my approach to life, even if only by a fraction of a degree. This dude is maybe a little too extreme for me, I don't really want to be living in a cave - unless that cave is on a remote island off the Indonesian mainland, spitting distance from a perfect right, but he's inspiring none the less. He gave up money, and has been living without it for years.

​
(
more
)
The American Who Quit Money To Live In A Cave
from
David Eckenrode
on
Vimeo
.
Mark Sundeen, the author of book, 'The Man Who Quit Money' is a soulful journey into the spirit of Daniel Suelo. Suelo, gave up on money in 2000. He walked into a phone booth, pulled out 30 dollars and left it. Twelve years later, Suelo still does not have a personal i.d. bank accounts, a modern home, does not take money, or live off of federal welfare. Suelo, lives in caves in the canyon lands outside of Moab, UT. Suelo, harvests wild foods, eats roadkill, and dumpster dives. Suelo, is not an isolationist, he still is very active in the Moab community SE Utah politics and he is an active blogger.​
Reminds me of the
Emptying My Backpack
piece I wrote a while ago, just, a lot more extreme.