Interesting stories about the "Leatherman" who walked a 365 mile circuit every 35 days around NY/CT.
http://en.wikipedia.org/wiki/Leatherman_(vagabond)
LIFE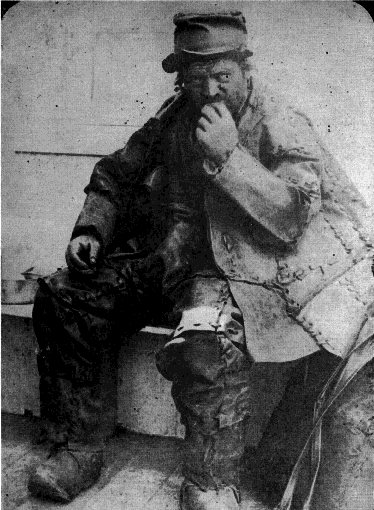 Leatherman, June 9, 1885
The
Leatherman
(ca. 1839–1889) was a particular
vagabond
, famous for his handmade leather suit of clothes, who traveled a circuit between the
Connecticut River
and the
Hudson River
, roughly from 1856 to 1889. Of unknown origin, he was thought to be
French-Canadian
, or simply
French
, because of his fluency in the
French language
, his "broken
English
", and the French-language prayer book found on his person after his death. His identity remains unknown, and controversial. He walked a 365-mile route (taking 34–36 days) in western Connecticut and eastern New York.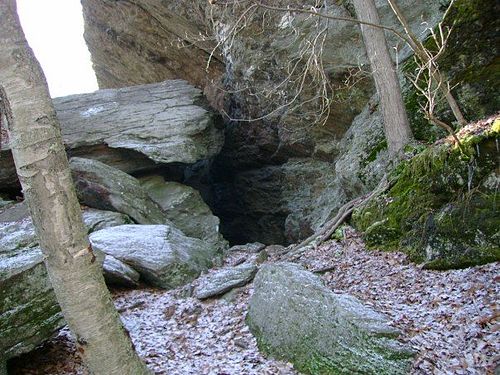 Entrance to the Leatherman Cave in
Watertown, Connecticut
Living in
rock shelters
and "leatherman caves", as they are now locally known,
[1]
he stopped at towns along his 365-mile loop about every five weeks for food and supplies.
[2]
He was dubbed the "Leatherman" as his
adornment
of hat, scarf, clothes, and shoes were handmade
leather
.
[3]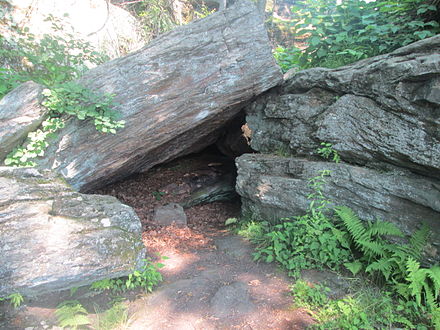 This is the Tories den; it was also one of the Leatherman's rock homes, the site where his well was poisoned, and, according to legend, a boy hiked here one day and built a fire; returning the next day, he told his mom about his night. His mom asked him where he got the wood. His mother was furious, sending him two miles to get new wood. (The mother knew the wood belonged to the Leatherman.)
Fluent in
French
, he communicated mostly with grunts and gestures, rarely using his broken English. When asked about his background, he would abruptly end the conversation.
[4]
[5]
Upon his death, a French
prayerbook
was found among his possessions.
[3]
[5]
He declined meat on Fridays, giving rise to speculation that he was
Roman Catholic
.
[6]
It is unknown how he earned money. One store kept a record of an order: "one loaf of bread, a can of sardines, one-pound of fancy crackers, a pie, two quarts of coffee, one
gill
of brandy and a bottle of beer".
[3]
[7]
Leatherman was popular in Connecticut. He was reliable in his rounds, and people would have food ready for him, which he often ate on their doorsteps.
[5]
[8]
Ten towns along the Leatherman's route passed ordinances exempting him from the state "tramp law" passed in 1879.
[1]
Health
The Leatherman survived blizzards and other foul weather by heating his rock shelters with fire. The
Connecticut
Humane Society
had him arrested and hospitalized after finding a spot on his lip, which was thought to be a result of the
Blizzard of 1888
. He escaped the facility, not waiting to be treated.
[3]
[7]
His body was found on March 24, 1889 in his Saw Mill Woods cave near
Ossining, New York
.
[4]
Grave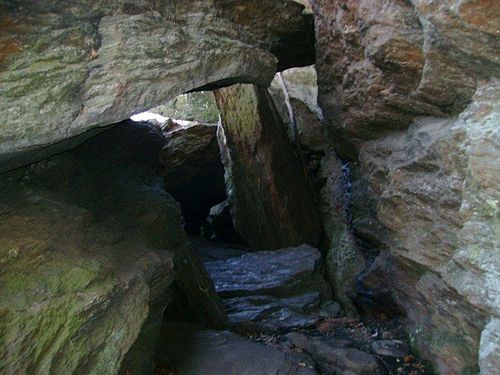 Inside the Leatherman Cave in
Watertown, Connecticut
His grave is in the
Sparta Cemetery
,
Route 9
,
Ossining, New York
. The following inscription was carved on his original tombstone:
FINAL RESTING PLACE OF
Jules Bourglay
OF LYONS, FRANCE
"THE LEATHER MAN"
who regularly walked a 365 mile route
through Westchester and Connecticut from
the Connecticut River to the Hudson
living in caves in the years
1858–1889
His grave was moved further from Route 9. When the first grave was dug up, no traces were found of the Leatherman's remains, only some nails, which were reburied in a new pine box, along with dirt from the old grave site. Nicholas Bellantoni, a University of Connecticut archaeologist and the supervisor of the excavation, cited time, the effect of traffic over the shallow original gravesite, and possible removal of graveside material by a road-grading project for the complete destruction of hard and soft tissue in the grave
[9]
The new tombstone, installed May 25, 2011, simply reads, "The Leatherman."
[10]
Identity controversy
The Leatherman's former tombstone read, "Final resting place of Jules Bourglay of Lyons, France, 'The Leather Man'…", and he is identified with that name in many accounts.
[1]
[11]
However, according to researchers, including Dan W. DeLuca,
[12]
and his New York death certificate, his identity remains unknown.
[13]
This name first appeared in a story published in the
Waterbury Daily American
, August 16, 1884, but was later retracted March 25, 26 and 27, 1889 and also in
The Meriden Daily Journal
, March 29, 1889.
[2]
[8]
DeLuca was able to get a new headstone installed, when the Leatherman's grave was moved away from Route 9 to another location within the cemetery on May 25, 2011. The new brass plaque simply reads "The Leatherman."
[1]
Exhumation and Reburial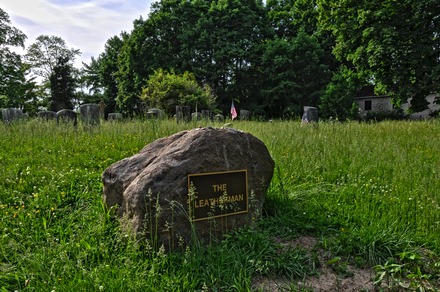 Current gravestone
The Leatherman's original grave in Sparta Cemetery was within 16 feet of
Route 9
.
[14]
[15]
His remains were exhumed and were reburied at a different site in the cemetery on May 25, 2011. No visible remains were recovered during the exhumation. Rather, coffin nails and soil recovered from the original burial plot were reburied at the new site. Part of the reason for the exhumation process was to test his remains to determine his origins. He had been rumored to be of French descent but there were several conflicting reports.
[16]
www.npr.org/2011/05/26/136649653/leatherman-remains-a-mystery-even-in-death
In the 1800s, a man wearing a head-to-toe leather suit walked a 365-mile circuit between the Connecticut and Hudson rivers, sleeping in cave shelters and completing his journey in precisely 34 days. And he kept it up for years.
No one knows who he was or why he did what he did, but the legend of the Old Leatherman still fascinates. This week, archaeologists and historians set out to solve the mystery by exhuming his body. But their efforts have only deepened the mystery.


Photo courtesy of Dan DeLuca



Craig LeMoult/WSHU



Photo courtesy of Dan DeLuca



Google Maps



Photo courtesy of Dan DeLuca



Craig LeMoult/WSHU



Photo courtesy of Dan DeLuca
1 OF 7
View slideshow
Taking A 365-Mile Walk
In the woods off an old dirt road in Ossining, N.Y., a large rock face looms, with some smaller jagged boulders at its base.
"Here we are. This is actually where the Leatherman stayed," says author Dan DeLuca, who
wrote a book
about the iconic traveler.
DeLuca climbs down into what looks more like a crevice than a cave. More than 100 years ago, this spot was one of the homes of the Old Leatherman.
"He was all dressed in leather," DeLuca says, "made from old boot tops that he sewed together with leather lace."
That "boot suit" weighed 60 pounds, and he wore it even in the hottest days of summer. The Leatherman started walking clockwise in a huge circle between the Connecticut and Hudson rivers. And he completed that circuit every 34 days.
The Old Leatherman was so punctual that people could tell the time by his schedule.
"If normally he would stop at your house at 10, he would be there around 10, give or take 5 to 10 minutes," DeLuca says.
An Unlikely Celebrity
The Leatherman slept in caves and other shelters, where he tended gardens and stored food. He walked through more than 40 towns on his route. But he didn't speak much — just the occasional grunt of some fractured English, and sometimes a phrase in French, believed to be his native language.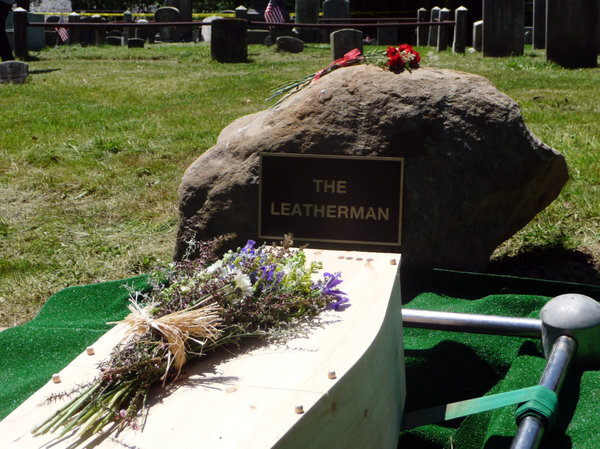 A new grave marker for the Leatherman was placed in a cemetery in Ossining, N.Y., this week.
Craig LeMoult/WSHU
People began offering the Leatherman food, considering it an honor if he stopped at their home. Some schools let the best student go outside to give him food when he passed by on "Leatherman Day."
But no one ever knew who he was, or why he lived like this. It's a mystery that DeLuca has been studying for more than 20 years. He started his research after a heart transplant forced him to retire.
"A lot of people, when they get a heart transplant, don't make it. They pass away," he says. "And I think the old Leatherman has kept me alive."
DeLuca is not the only one inspired by the legend. The band Pearl Jam recorded a song about him. And there's a race in Pound Ridge, N.Y., named after him.
His caves are visited by Leatherman enthusiasts, as is his grave, in Ossining, N.Y.
A plaque on the headstone has the name "Jules Bourglay." There was a legend that a Frenchman by that name lost the chance to marry his true love after he blew a fortune in the leather business, and wandered Connecticut and New York in a leather suit as a penance. Of course, DeLuca looked into that one.
"A great story," he says. "Not true, though."
Seeing A Chance For Answers
The grave site is situated right next to a highway; so many people visit it that concerns arose that someone could get hurt. So the local historical society decided to dig up the Old Leatherman.
The plan was to move him to a more central place in the graveyard, and give him a new stone without the false name.
The historians thought that while they were at it, they could also take the opportunity to do forensic tests on the remains, to check some of the theories about the Leatherman. For instance, tests might help determine whether he had Native American roots. And it's not known whether he was from France or America.
Web Resources
'New York Times' Story From 1886
'Yankee' Magazine, 1985
Slideshow: The Leatherman's Trail
The plan to take the DNA became a bit of a controversy. Don Johnson is a middle school history teacher in North Haven, Conn., who teaches his students about the Leatherman. He is also the creator of the website
Leave the Leatherman Alone
.
Johnson says the Leatherman was intensely private, spending "30 years, 100,000 miles, never telling anybody who he was. That legacy to me should speak to us today as, do we want to respect him and memorialize him properly? Then leave him alone. Leave his bones alone."
Despite those misgivings, archaeologists, soil scientists and amateur historians filled a tent erected over the grave site this week.
As they dug, the scene was one of excitement — somewhere between a scene from the TV show
CSI
and a circus tent.
Connecticut state archaeologist Nick Bellantoni lay on the gravesite, carefully scraping at it with a small tool. He found some nails, and a few animal bones. But that's it — there was no trace of the Leatherman.
Now it seems that the mystery of the Leatherman has deepened — from people not knowing who he was to not knowing where he is.
"Yeah ... he's having a good laugh," Bellantoni says.
They held a funeral for the Old Leatherman on Wednesday afternoon and reburied some of the dirt where they believe he decomposed. The Old Leatherman died more than 120 years ago, but the mystery surrounding his legend is now stronger than ever.
Last edited by a moderator: