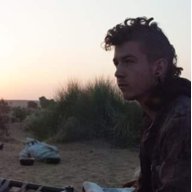 Joined

Dec 7, 2014
Messages

448
Hometown
So I did it, after 14 months away from home, I returned. I was pretty excited, I mean... getting to see my family, my friends and the world I used to know!! Sounds great, right?

I had plans: spending the first few weeks meeting up with friends, drinking beers and reminding ourselves of the old times, catching up with the news. Oh, that was fun!

Then christmas time with the family! WOOH! Seeing all the cousins, and shit! More food in a meal than what I used to eat in 2 days!! YUM!!

Then after christmas time, time to find a job. Already got a couple gigs lined up for after the holidays. FINALLY SOME MONEY!! I can buy all that shit I wanted! Albums, food, patches, bibs, etc!

Sounds great, right? Well fuck that. Travelling made me forget. While I was out there, I forgot what made me wanna pack my shit and leave. How I used to feel in this insane shitshow they call society. I'm what? 3 weeks in, and I'm already sick of it! And the fact is, it's even worse! Because in those 14 months, I gained experiences. Experiences that made me become someone else. Someone else that they can't relate to, they haven't lived it!!

Sick of all those dumbasses who can't even GRASP the idea that some people would wanna wear what they like, instead of what makes them look "cool" (oh, the shit I've heard on christmas time... ), or the people don't give a shit about each other, unless it's to make them feel good, or look good on social medias. They really can't fathom doing anything outside the box! "You got no choice!" I got told. Well you know what? If you're willing to deal with the risk and the consequences, you always got a choice! "Come on! That makes no sense!" To you it doesn't, I added.

I was sick of all that, and I still am. My plan was to work until August, then leave again to travel Canada and Australia. I hope I'll find the strength to do it that long...

Rant out!
Last edited: