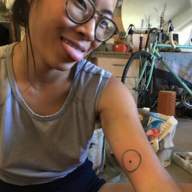 Joined

Jul 21, 2017
Messages

1
Hometown
Does someone else here experience this type of anxiety, where you just want to fit in with everyone else.

Don't get me wrong, I love my lifestyle, but I feel pressured into living a normal life, working, having a husband/kids/a house, from time to time and it gives me anxiety attacks.

As it is now I work freelance for a couple of hours a month, live out of my backpack, sleep outside and dumpster dive. I get around by hitchhiking. I love it most of the time but:

Especially now, getting 'older' I don't feel like the careless free hippie I was seen as, but more like a failure. I feel like life was just fun and games but now it's time to grow up, but I just can't. I have some sort of a lifestyle related midlife crisis.

Again, it's just periodically so maybe it's the hormones or idk what...

Does anyone here feel the same way? How do you deal with it? If you are middle aged or even more: how did you handle it.

I hope someone has advice or similar experiences.

Save travels.