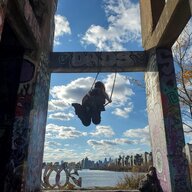 Joined

Aug 24, 2017
Messages

367
Location
I agree! But that feeling of "fun and freedom" is because were taking calculated risks with our lives and breaking the law, we are protesting dominate class ideologies through are actions, i.e surreptitiously stealing rides from freight carriers.

Have you personally known ANYONE who has died riding suicide or ANY spots that were supposedly "blown up"- this isn't even a thing, this is bum drama. Not that many people die riding trains, the statistics are very skewed, it's only recently that the FRA has divided

train hopping

specific deaths into it's own category-

thrill seeking.
My buddy's partner would've died for fucking sure when she fell thru riding suicide if he and my partner didn't pull her up. Instead she just had FUCKED up feet and had to have emergency surgery on them.
Thankfully, I don't hang around many folks who ride suicide so no I don't know any who've died from it personally but I know my friends who've been out here for a while have. Surely u understand that it's called riding suicide for a reason.