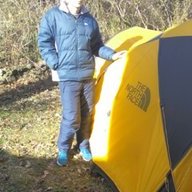 Joined

Aug 1, 2017
Messages

94
Location
So generally I was going to ask the community about a specific problem with a 4 season tent I own, about how its attracting worms that are chewing small holes, but I decided to make a more general informative discussion on the broader topic of tent hazards - the things that can be harmful to a tent. I want to compile a short list of things for myself and others to give tent owners a heads up, or for those that may be considering using a tent for a living space.

I think I'll start by listing some of the obvious things.

Small creatures and rodents - will chew on a tent if they smell any food inside. Know from experience. Avoid this by storing food outside and never eating inside.

Falling debris - always look up. They call hanging dead limbs "widow makers", in that in wind dead limbs may fall on a tent, harming the occupants.

Insects - ants, spring in particular, like to burrow under a tent. As a rule, I tip my tent over every week and check underneath. Apparently silk worms in fall love a particular fabric that 4 season tents have - the polyester I'm assuming? This is somewhat fixed my leaving the rain fly off, preventing them from having a hiding spot (?)

Sunlight - UV degrades ALL fabrics. Always always set up in shade if possible.

Mildew - condensation from using a sleeping pad can create wet spots under the tent. Fixed by tipping tent over from time to time to keep the bottom dry.

Velcro - sometimes when setting up or storing a tent, parts of the tent that are velcro will stick to the mosquito mesh, damaging them over time. The only fix I can think of is to use caution when storing or setting up 4 season tents. With 3 season tents store the rain fly with the velcro separate from the main mesh body. Often keeping them together in the same bag gets them snagged together over time.

So this is just what I experienced. Anyone have anything else to add? Any advice on that odd chewing worm? What have you guys delt with over the years?