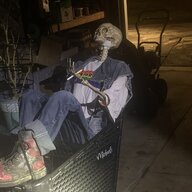 Joined

Apr 23, 2021
Messages

22
Reaction score

19
Location
I've been trying to figure out what clothes would be best to pack to keep cool when its hot. I've read many articles from multiple different sources (REI, Bustle, and various other hiking and traveling related blogs) about the best clothes to wear for hiking and traveling and such in hot weather.
Problem is... every source seems to say something different.
Many sources say that synthetic materials, such as nylon and polyester, are ideal for hiking in hot weather. They site that those materials are good for "wicking away sweat".
(
Hot-Weather Hiking Tips - https://www.rei.com/learn/expert-advice/hot-weather-hiking.html
)
But from my personal experience, synthetic fabrics fucking SUCK. anytime I wear that bullshit "moisture wicking" underwear or shirts, I feel like the sweat just sticks to my body. it just stays on my skin and doesn't get absorbed or dried off by my "athletic" shirts or underwear.
and so I tried to look into it on my own and see of maybe I'm full of shit, but there's quora discussions and articles written by other sources
(
Sweat a Lot? 5 Fabrics to Avoid When the Weather Gets Warm - https://www.bustle.com/articles/17873-sweat-a-lot-5-fabrics-to-avoid-when-the-weather-gets-warm
Is Nylon Breathable? (Is Nylon Good For Hot Weather) - https://sewingiscool.com/is-nylon-breathable-hot-weather/
)
and while these seem less reliable than REI, which seems to be some sort of god in the hiking world, they make good points and back up my previous experience with synthetic fabrics.
So mostly I'm confused. Why are there so many things advertised as "moisture wicking" and why do these things get the label of "good to prevent chaffing" when it seems that a lot of people have the opposite experience?
And don't even get me STARTED on the light colors vs dark colors to keep cool debate I will have a fucking fit.