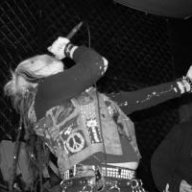 Joined

Oct 26, 2009
Messages

127
Location
Website
Again I get to join my mates on the road for some epic crust punk destruction this summer! Mundo en Kaos Records (
Mundo en Kaos Records on MySpace Music - Free Streaming MP3s, Pictures & Music Downloads
) & new MPLS label DESOLATE RECORDS are releasing the new Cognitive Dissonance
PRISON UNDER THE CROSS 7"
3 tracks: Endless War, Prison Under the Cross, and What We Left Behind.
It will be back from the pressing plant soon!!!
....... SECURICOR from Chicago will be joining us on tour from Chicago on and back again.
. . .Looking forward to seeing bands, reuniting with old friends and meeting new ones,
and of course to RISE FEST in Massechusetts! An outdoor crust fest in the woods near a waterfall! (
Rise Fest | MySpace
)
I'll be driving and selling merch, come say hello!
....See you on the road,
UP THE FUCKING PUNX!!!!!!!!!!
(Still working on some dates)
JULY
17th- Madison,
18th-
19th-
20th- Chicago W/SECURICOR
21st- Detroit w/ ANGUISH, SECURICOR
[email protected]
Trumbull Plex
22nd- Pittsburgh W/SECURICOR
23rd- Albany W/SECURICOR
24th- RISE Fest- MASS
25th- RISE Fest- MASS
26th- Boston W/SECURICOR
27th-Montreal w/ T.B.A. @Katacombes
28th- Day Off
29th Hartford, Connecticut w/ OILTANKER, SECURICOR @Whitney House
30th-NYC W/SECURICOR
31st- Philadelphia W/SECURICOR @The FARM
AUGUST
1st- Baltimore W/SECURICOR
2nd- Richmond w/ S.S.R. & SECURICOR @ T.B.A.
3rd- Huntington, WV w/ SECURICOR
4th- Cincinnati W/ APPALATION TERROR UNIT, SECURICOR
5th- Chicago- OFF
6th- Appleton
COGNITIVE DISSONANCE on MySpace Music - Free Streaming MP3s, Pictures & Music Downloads