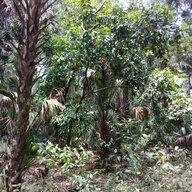 Joined

Mar 22, 2023
Messages

10
Reaction score

15
Location
Hello STP community,

I did all the right things, got good grades, got into a good school, got a good paying job. I should be grateful for my oppurtunity and that I'm able to live independntly at a young age, but fuck me I feel like my soul is being sucked away and after each day I only have enough time to eat, maintain my self, and maybe if I'm lucky get to watch an episode of a show.
No time to read. No time to create. No time to explore. No time to love.
I'm not living I'm just treading water and killing time.

I'm young and can afford to make stupid decisions. So I'm here to learn as much as I can so I can be smart about my stupid decision.
My lease expires in a month and I plan to walk North. I'm from Florida and have friends in NC so that'll be my first destination. I hope to then go east to Colorado and then back North to NY (more friends I'd like to visit).
I made an account on Workaway and hope to volunteer for agriculture along the way, and hit up as many state/national parks as I can. I made Eagle Scout and I'm familiar with the woods and plan on stealth camping when I sleep while traveling. If I'm in the city I'll try to find a rooftop.

I intend to travel by rail and have been taking as much notes as I can from YT observations (+RanOutOnARail).
My biggest fear I guess is doing it alone, followed by not doing it at all.

So yeah, I'm here to learn best practices. Maybe meet travel buddies or people to visit, and once I get traveling to post pictures and stories.
It's very great that such an invaluable forum like this is made freely available, this internet thing can still be pretty neat.

Thanks for reading, if you have any questions feel free to ask. I have a bad case of leaving tabs open, I'll be here.
Last edited: