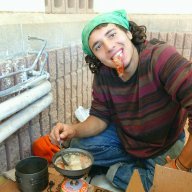 Joined

Sep 22, 2015
Messages

29
Reaction score

57
Age

116
Now let me tell you about my 25 day experience in this jail and why I'm so pissed off and hopefully when I'm done with my rant you'll agree with me or not :/
It all started when I was riding a through Colorado. I was heading East towards Kansas City so I could hop another train going north. I was at the end of the train in the DPU which was connected to grain cars. I was just chilling and watching the scenery of the beautiful grasslands of eastern Colorado. Then the train stopped and sided out in the city of Cheyenne wells. I thought the train was only going to be there for a little bit and I would be back on my adventure like I always do but little did I know that the train was being broken up and loaded with grain. Usually this process takes about a day or more so I decided to lay low and not succumb to the pressure of moving around. So I waited one whole day but the train stayed in the same spot that it had been for the past 24 hours without any signs of movement. Now usually I'm pretty patient when I have to wait a couple of days in the same spot but I ran out of food that day and the empty corn fields around me didn't help keep my boredom at check. Luckily there was this house next door it was all alone in the middle of nowhere and earlier that day I was romanticizing about the idea of me going over there and asking the people for food and telling them my stories and maybe even being invited for dinner to a nice hearty meal
... unfortunately that didn't happen :|. I ended up scaring the people when I told them who I was and what I was doing even though I tried to be as pleasent and gentlemanly as I could and they didn't have any food anyway
. So I ended up going back to the train and thinking nothing of it and looking forward to any movement from the train. After about 20 minutes of waiting I saw an unmarked cop car pull up to the house and then it was obvious to me that the people called the cops. But then I still wasn't worried because I pictured in my mind that if the cop found me on the train I would just be like "I'm traveler, I hop trains and adventure" and he'd be like "Oh OK, just don't cause any trouble in my town boy and be on your way". But that didn't happen and I ended up being arrested. As I was put back in the cop car I told him I left my stuff on the train because earlier I was to scared to get it when the cop saw me and told me to get of the train, he had a gun pointed at me Yelling "GET ON THE GROUND". So he said he would get it later after he took me to jail.
As I'm being booked in the jail I wait for the cop to return with my stuff. So after a while he comes back and tells me that he only found part of my stuff and couldn't find my
backpack
. So I gave him more detailed instructions on where it may be but by this time I was being transferred to another jail (Prowers county) because the jail I was in was unsuitable to keep people in there after a period of time. But he reassured me that if he found my pack it would be sent to the jail I was staying at.
So I was booked in the jail were I was transfered to and was waiting in a holding cell to see the judge the next morning. I was only expecting to spend a couple days in Jail or do some community service because my charge was so small being a misdemeanor (trespass 2). But this court hearing was just an advisement which just told you what you're being charged with. But I already knew what I was being charged with so I was like "WTF"?!? (If you thought the court system in America couldn't get anymore stupid...) This was just a waste of my time and what was even more of a waste of my time was that the judge told me my next court date was on the 14th of January which was a month away, I was arrested on December 20th.
When I heard this I was really pissed and sad because any hope of accomplishing my goals was over which consisted of me going up north and panhandling during the holidays so I could make enough money to get the gear and camera I wanted. I found out later that my next court date was in Cheyenne Wells which was in another county and they only had court there once a month, hence why I had to wait so long. When they took me back I went back into holding and kept asking them if they could move me to general population where there's more people and you're not stuck in a small cell all day being turned into a vegetable or going crazy because of the lack of stimuli.
Now I've been to other jails before and usually the general population area is better because they usually have games and a T.V. and other activities that you could do to make the time pass little faster. But when I entered this dorm I questioned weather this was better than holding cell. The dorm was so depressing I could feel it right away there where no games or books in the corner that you could access anytime like other jails I've been to. It was the most boring est room I have ever seen and every person in there had long faces and looked tired. The chairs and benches where all metal where you could see the white paint flaking off of them and there were only two T.V's in there. You could not get comfortable in there if you tried. There was an outside area that was fenced in and were you could see the sun but we couldn't even go out there because it was "to cold" so they had this indoor rec room just as depressing with only a basketball hoop. The only fresh air I could get was to put my nose in the crack of the door leading to the outside rec room.
The food wasn't to much better most of it was refined and we were lucky to even get any kind of fresh fruit even then it was like only half an apple or an orange. The breakfast was so insulting to a grown man, it consisted of refined cereal, milk, coffee, one small piece of white bread and maybe a fruit. I was constipated allot because all the crappy food they fed us and I could feel my teeth getting more sensitive because I wasn't getting enough nutrients, if I was rich enough I would probably sue them but for now I can only dream. What was even worse is that you could not trade or give away any food you didn't want because the guards were watching you eat the whole time. The portions we got were very small and you were starving most of the time, sometimes I couldn't go to sleep because I was so hungry thinking about food all night.
Now you can condescend me and tell me "if you don't like it then don't go to jail!" but what you got to understand is that the more inhumane rules and treatments you enforce on people the more likely you are to get fights and aggressive people out of it. So you can't eat your cake and have it to and expect the people In there to act nice and pleasent when you treat them like shit!
Now I've heard of worse jails that other inmates have told me about but that still doesn't give the authorities to treat us like shit especially when they get paid enough to feed us better and treat us better. So when you're in jail all you can do is talk, watch T.V and play cards unless your in one of those jails that lock you in a room all day but i don't want to talk about that because its so depressing. So as I was in there I did quite a bit of talking and heard about the corruption of the jails, sheriffs, and judges. Like how the sheriff and other staff were accused of embezzlement yet nothing was done about it, or how when some of the local people went into the jail and pointed out the corruption they were soon to have their house raided and there family harassed by the police.
Hearing this made me want get away as far as I could from this place when I got out and forgetting about the whole place. But I made a promise to myself that I would at least speak about it when I got out so the time I spent in there would not go to waste. I know the risks that I'm taking telling you guys this (hint, hint) but I don't care I'm just tired of this bullshit. :/ Anyways, 25 days passed until I was ready to go to court in the next county, so the sheriff from there was transporting me there. As we were driving, about halfway there he got a call from the cop that arrested me telling him that my case was dropped and I got time served and only later to be told the bad news that he couldn't find my backpack
. As I was being released from the jail all I got back was the stuff I had on me which where my bibs, jacket, headphones, phone and other miscellaneous stuff that I had on me but no backpack.
Fortunately I made some friends in jail and they said they would help me out if I needed it. I'm not going to name them but you know who you are and I'm thankful for the kindness and hospitality that you've showed me. So later I found this donation center that were giving away clothes so I went there and got some good stuff and my friend gave me an old back pack that he had.
The lessons I've learned from this is that not everyone in small towns is as friendly as I expected them to be. And also that's its better to go hungry and lay low for a couple of days while waiting for a train than rather getting caught and spending who knows how long in jail. I have included some pictures of the jail and what my backpack looked like.
I'm sure some of you guys have been in worse jails and ended up in worse situations and you probably don't want to hear me bitching about mine because its sounds so easy compared to what you had to go through but I would still like to hear some of your experiences so we can get the word out on this corruption!