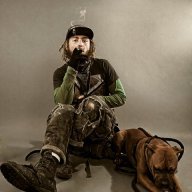 I'm a d-bag and got banned.
Banned
Joined

May 16, 2011
Messages

90
Location
Listening to the endless banter of some people can be one of the most unenjoyable experiences that could be had, but when you have a group of closeminded apathetic hippi3s trying to tell you that your an asshole because of the mannerisms and type of language you use it takes it to another level, On top of that they were too pussywhipped by fear to take a punch at me when thier female friend was not holding back at all hahhaahha Didn't hit her back simply shrugged it off and told the stupid skinny little vegan faggots to stand up and not to let a girl hit a guy like that because it could happen in a situation where the "asshole" in question isn't as lighthearted and nonviolent as ummm myself.

The big thing that pissed me off was the fact that these kids thought that just because they had different beliefs then myself that they had the right to try and kick me out of there little valley squat that evidently we couldn't talk over a whisper at because there were people that really didn't give a shit, hlaf a mile a way.

No wonder all the hippi3s always say ONE love cause they don't know how to have multiple Loves just a onesided wall of so called "Love" psh fuck that they have more hate in them then anyother group i know of nowadays.

Anyways I'm just tired of having to deal with all the bullshit that people try and lay on me, We need some people who just want to have a good time and know how to have conversations about different topics even if we have conflicting beliefs, Don't just try and run away from the different embrace it and use it's ideals to improve apon your own opinions, So if anyone wants to get together and start a fuckin' revolution.

And dont let drunk girls hit men, it can turn out bad.