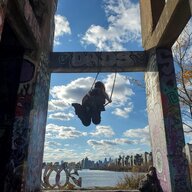 Joined

Aug 24, 2017
Messages

378
Location
There's plenty of folks I've seen come and go from StP in few years here say "I can never find anyone to meet up with from here!"
I've been here 3 years and have made tons of friends via StP but most folks I see saying they don't have "luck" with that are making "I'm here, who's here?"
"I'm here, who's here?"
"I'm here, who's here?"
Posts on repeat until they inevitably stop logging in, or us regular users sit here wishing they would (maybe that's just me).
I don't think most folks are tempted to message someone they know little to nothing about besides their location and an intro that says "My name is xyz and I like traveling/I would like to start traveling"
What music have u been listening to lately? When u travel, do u like to haul ass and make miles or take it slow and really experience each place u go? Are u really laid back and typically let ur road dog decide what's next? Are u a traveler who runs more independently but doesn't mind if u have a road dog down to tag along for the ride? Are u more egalitarian about how u and ur dogs make plans? Do u drink daily? Do u have an instrument or visual art supplies u carry with u?
Including a brief description of ur favorite place or piece of gear etc could give insight on ur personality too. I ended my into by asking ppl what their favorite animal is, so then it became more interactive.
Most friends I've made from StP weren't from my "I'm here, who's here?" posts but just from relating to others comments and posts or them relating enough to mine to actually message either other. Then a correspondence begins. Then "well, if ur gonna be in [State] next month and I'll be in [neighbouring state] at the same time, do u wanna meet up?"
But I think if u are a regular user who comments on other's posts and make ur own posts regularly (especially
travel stories
) then the "I'm here, who's here?" get more replies bc ppl have already seen ur name before, and if they can't remember what they've seen u say then they can look at ur profile n read back on ur posts to get a feel for if they'd want to meet u. I do that when I see someone say they were where I'm at and ask if anyone wants to meet up. I go creep their profile and read their posts and decide if I wanna meet them. If they don't have posts, unless they have a wicked cool username or I'm dead ass bored n lonely, I don't hit them up.
Another thing, we're getting into dead season. Most ppl don't wanna travel during winter so we fall into a lull when it comes to active travelers but there's an upswing in ppl posting n joining bc they're more stationary during this season. But as the US gets to be more and more of a hectic place, I think this might be a busier winter than usual as far as ppl actually on the road.
One final thought. I do not think most (by far) active StP users are ppl who currently travel. The travelers I meet on the road by happenstance are almost *never* on StP (
@superphoenix
u legit might be the only one I've met at or near a hop out who is an active user lol). But maybe if folks kinda put more into it, they'd get more ppl wanting to interact with them. It's definitely worked for me. One of my best friends/my first road dog was made here (
@Koala
shout out to u for being awesome and who I rode my first train with two and a half years ago!!!!) And I have a handful of other ppl I've become good friends with just from using stp (and stp discord in the past). The more u put in to this community, the more u get out of it.