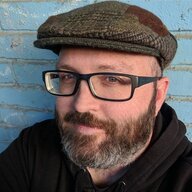 Permanent Wanderer
Staff member
Admin
Joined

Aug 4, 2006
Messages

10,338
Location
Website
so i was doing some research today about slab city, and i came across slabcity.org, a website that purports to be the "organization of slab city" dedicated to the clean up of the slabs. there's donation buttons everywhere, and for the low cost of $5, you get to become a "member" which gives you access to maps, pictures, etc.
sad part about this is that years ago before i even came to the slabs, i actually gave this guy money, and emailed asking how we could help clean up slab city during our "squat the planet gathering" we were having there that year. i never got a response back, and after running it by everyone else here in slab city (and the slab city facebook groups) everyone says it's a scam website set up by a guy who spent virtually no time here at all.
here's what i posted on the slab city facebook group, which includes this hilarious email exchange i had with the owner of the site:
just out of curiosity, who runs the slabcity.org website? and who does the $5 member fee go to? thanks!
Seann Fox It goes to the guys pocket... save your $5.00
4 hours ago · Like · 1
Cookie Richardson It's a scam, Matt. The guy lives back east. By his own admission in emails a few years ago, he says he drove in and turned around because it was so disgusting here. He says the website is his extra income. We asked him if he didn't feel bad taking peoples money and he replied, "if they are fool enough to send it, I'll take it."
4 hours ago · Like · 1
Matt Derrick wow, that's what i thought. that's messed up. wish there was something we could do about it…
3 hours ago via mobile · Like
Matt Derrick So forgive me if this is inappropriate, and feel free to remove it if it is, but i just had the most hilarious email exchange with this guy:
On Apr 10, 2012, at 4:23 PM, Matt Derrick wrote:
i think it's pretty messed up that you run a website about a place you don't even live at and take unwitting people's money with no intention of giving any of it to the community. i hope horrible things come your way.
---------------
On Tuesday, April 10, 2012 at 3:29 PM, Slab City Organization wrote:
Who should I write a check to? Assholes like you who keep dumping year after year? Nobody deserves a penny for being a bunch of litterbugs.
Anyway, fuck off prick, nobody cares what you think. Go smoke some more weed.
----------------
On Apr 10, 2012, at 5:33 PM, Matt Derrick wrote:
haha, you're the one scamming people out of their money by running a website that in reality has nothing to do with slab city. I've done more than you ever will to clean this place up, because, unlike you, i actually live here. look forward to some excellent news articles soon about how your website is a total scam.
----------------
Sure, whatever.
You must be real smart. Nobody "unwittingly" takes money from someone's PayPal account, so you're just plain stupid. We accept donations to keep the website up and running, it says so before you pay. Only dumb fucks who got dropped at birth cannot read simple English language in front of them, it has said so since 2001, so you are a little late fellah, get a grip on your cock and brush the cum from your face.The website clearly says what the money is for, again, only smart people who can read would know this, maybe the aids is fucking with your head, I suggest you stop having rest area sex.
So you waste my time with this? You're another tweaker who cannot read. Fuck off! Nobody care what you have to say. Unless you have ideas how to stop people from dumping sewage, you're just another load of shit passing through.
----------------
so yeah, colorful guy. I'm not even really offended, i just think his retorts were hilarious.
so if you do come across this website, DO NOT give him money, and feel free to email him and tell him what a shithead he is