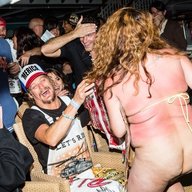 Joined

Oct 23, 2006
Messages

793
Current Location
Website
so i was hitching one day in a pouring rainstorm and this dumpy little guy in a car decked out w' redsox memorabilia, he even has all sox logo wear on, gives me a ride 30 miles, of course out of his way. it turns out his major life accomplishment was being towel managwer of a local baseball team.
halfway there he offers me 20 bucks to show him my dick. i was annoyed but not scared since i've dealt with a lot of shit like that from lonely old gay guys by now and i knew he wasn't aggro or anything. i was like no, no, and turned down another, wierder offer.
when i got out of the car, i regretted not getting the money. should i have tryed to bargain this guy up to 100$? i really don't have any ethical objection to that kind of thing. and yes, i think prostitution is fucked up, and,no, i'd never dip to that level, i have a cousin who was a call-girl.
my dad was like "it's a slippery slope" , but i just can't see anything that would hurt my esteem about howing some sad little guy my dick. what's yr opinion?