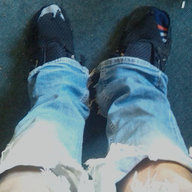 Joined

Jun 26, 2014
Messages

730
Age

46
Hometown
Website
Hi!
Unfortunately my Van slip ons I wore at my last trip fell apart to the point they became unwearable (fabric ripped at the sides so that I slip out). I have a pair of almost new Chucks but they give me blisters when I walk in them for more than just half an hour or so. I'm wearing flip-flops with socks at the moment for everyday use, no kidding.

Good, new quality shoes/boots are not an option at the moment cause I'm on a tight budget and want to save as much money as possible for my next trip in January. I could afford some 10€ shoes of course, but I guess those would fall apart even faster than my Vans.

So I think about repairing my Vans, sewing the fabric back on with floss or some nylon yarn. And replacing the worn out insoles with new ones. But I don't want to spend a lot of time sewing, only to see them fall apart again after a few days.

Any experiences or thoughts about it?