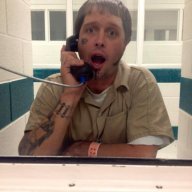 Joined

Nov 8, 2008
Messages

510
Location
so this is kinda in response to angels post about his squat he had. anyway.
so when I was in SF this summer the majority of the time I was there I stayed over in emryville where we popped an abandoned house. neighbors where cool as most of you prolly know. its a good are for dirty kids. the ghetto-ish areas. but good locals that dig on riders.
but one night I found myself all fuckered up and still on the west side of the bay. SF for ya'll less capable folks
jk. at this time the bart is no longer running. without a car theres no way to get to the east bay. in any event me and some kids decided to just walk down to market and see if we couldnt con a way out of SF and back to the ville. We decided to take a trip down height towards market. on the way down we found an opening to this building. it was like a cage really. the links had been cut. I wont take credit for finding this palce cause it had obviously been tapped before. me and my counterparts decided to hop in the hole then through the window that was busted out(it had some OSB covering it but we punched through). once we got in I was pretty amazed. I had my headlamp on and started my scavenge hunt.
Inside the first room I went into I quickly found that the building still had electricity. I flipped on the lights and shut them off right away. we are on the second floor from the parking lot but the first floor from the original doorway/haight entrance. so I didnt want to give up such good spot. as we moved on we came across the assumed to be maintenance room. this was the first incounter with someone else in this place. it was fucking hilarious. we mob in there 4 deep and see a light at the back of the room. suddenly this old crack head dude comes out from behind a wall and is all like "oh shit. Im sorry you guys live here?" hahaha. he had a headlamp on and was looking for scrap to trade in for tweek. I turned on the light switch to the left of me. the crack head hung his head in disappointment. he really wished he would have known about the electricity. the light is on a timer but its def better then a headlamp for a tweeking scavenger.( I have run into this more times than once for sure)
so that guy left and we set up shop. we had our own sleeping places cause the place literally had bunk beds set up. Im sure they were shelves but they worked perfectly as a bed. the next few days were pretty uneventful except one night we were going "home" and when we were sliding through the hole some chick came out(cracked the fuck out) and said "hey! welcome to my home" hahah. she tried kicking us out but we said fuck off and went through anyway. on a later day we were exploring the vast expanse of the building and we ran across her room. well a few rooms. seemed that this was the home of more than just us. but big enough .to aomadate(sp)