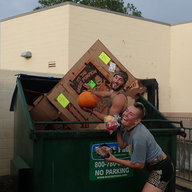 Joined

Jun 28, 2015
Messages

11
Reaction score

160
Homebase
Greetings from Egypt! After 6 months traveling most of
South America
I've got some stories to tell. So many, in fact, that I'm a bit intimidated by all the bits and pieces of posts I've written crying to be finished. My Southeast
Asia
post is about two years late by now. How do you eat an elephant? Figure I'll start with a quick one.
Without further ado-
"Yeah, man: just hang out near the speed bumps with all the people selling oranges and shit then when you see something rideable make a run for it"
"... And nobody cares?"
"Welcome to South America"
It was a pleasant winter day on the coast of Peru as I walked down the highway with my thumb out a few miles south of the first Peruvian border town below Ecuador. I was exhausted from my less than ideal night's rest spent in the middle of a busy traffic circle beneath a gigantic Jesus statue (I figured that not many ecuadorians would have the guts to Rob me in front of Jesus) Already about an hour had passed without a ride when I remembered an American friend's sage advice given in Colombia months before.
I continued until the final speedbump on the edge of town (In most of South America, even principal highways have speedbumps in many, sometimes seemingly random, places) and sat down on the curb. Not five minutes later a completely empty platform truck comes rumbling through. I deftly hop aboard, echoes of train riding flash through my mind. I have found my new fix.
Over the next two weeks I would go on to cover the entire length of Peru on the backs of various cargo trucks,
camping
in the desert all the way, for a total of ~1300 miles. Oftentimes, I found myself riding with Venezuelan refugees who were heading to various places South in search of work in the wake of their country's economic collapse. Many local Peruvians had warned me about the refugees claiming "te robarán" (they will rob you) but, unsurprisingly, they were some of the kindest folks I would meet. Rather than fleecing my gringo ass as they had many opportunities to, they instead invariably offered me some of what little food (or candy) they possessed.
Once I reached Cuzco, it was 'bien frio' and I decided to start paying the meager sum for bus transport to Bolivia in the interest of maintaining my core temperature. I made it to the border but what's this? Americans (only Americans) are required to pay $160 in crisp bills for their entry stamp. Needless to say, I was determined not to. I waited until dusk at the pedestrian border crossing bridge where hordes of men towing push carts stacked high with assorted goods passed back and forth like ants. I popped into the Peruvian migration office for my exit stamp, converted my remaining Peruvian Soles to Bolivianos and stepped into the flow of foot traffic behind a seven foot tall cart full of plastic coffee mugs. The sun was directly in the face of the Bolivian migration office which worked to my advantage as I slid past directly onto a bus bound for La Paz. Success. For now.
To be continued...